The Best of Sherlock Holmes
Best 2016
Sherlock Holmes Books,
Movies, DVDs, & More
By Randall Stock, November 1, 2016 (History)
Sherlock Holmes is more popular than ever, which means there are lots of new books, movies, and Sherlockiana. The reviews and recommendations below can help you focus on the best ones from 2016. If you're just getting started with Holmes, see the Top 10 Choices for New Fans. This site also reviews newer Sherlockian items to consider.
Newer Recommended Sherlockiana and the Best Holmes books, DVDs, & Blu-Ray from other years
---
The year's best fictional Holmes books published in 2016.  Listed in order by author, see also About the Choices and E-books. 
Prices as of November 2016; subject to change.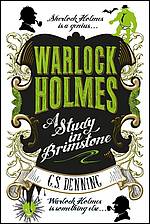 Now for something completely different.  Denning's campy retelling of six Holmes stories is sarcastic, silly, and very funny while mixing in a touch of the supernatural.  The stories largely retain the plots and characters of the originals, but with clever and amusing twists.  More than just a parody, Denning even works in some astute Canonical criticism while keeping things light and breezy.  The humor reminded me of the excellent movie Without a Clue.  Those familiar with the original tales will especially appreciate his riffs on them, and you will never again think about the Canon in quite the same way.  Warlock Holmes is hugely entertaining and not to be missed.  ($14.95 SRP; Amazon US listing $9.94)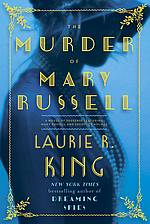 King takes her long-running Mary Russell series in a new direction with an intricate and well-drawn tale that delves into the backstory of Mrs. Hudson.  Holmes is more active and interesting than in Dreaming Spies (2015), but as usual it's more a novel of suspense than a traditional mystery.  King's speculations about Mrs. Hudson build nicely from many of the original Holmes tales, especially "The Gloria Scott."  A few plot points don't bear close scrutiny, but that's true of Conan Doyle's tales as well.  Series newcomers should start with The Beekeeper's Apprentice.  With its greater ties to the Canon, Holmes fans who didn't care for earlier Russell books should give this latest a try.  ($28.00 SRP; Amazon US listing $19.04)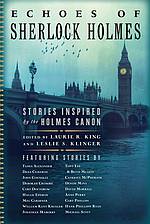 Inspired by the world of Holmes, these 17 tales are not traditional pastiches.  As with the excellent In the Company of Sherlock Holmes, bestselling authors provide stories set in many different locations and time periods.  Holmes examines Conan Doyle's history with Spiritualism in a brilliant piece by David Morrell.  Although it has only the faintest connection to Holmes, Michael Scott offers a first-rate tale involving the theft of the Irish crown jewels.  Jonathan Maberry puts C. Auguste Dupin in touch with Watson in a fine prequel to "The Empty House."  Hallie Ephron's wonderful story about a movie actress and Irene Adler is full of Hollywood-insider observations and is a must-read.  ($24.95 SRP; Amazon US listing $19.05)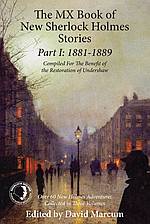 Traditional Holmes pastiches are exactly what you get in this series.  Set in the correct period and mostly narrated by Watson, almost all the stories are new and you have probably not read the few exceptions.  These are straight pastiches with no parody, no science fiction, and no ghosts.  Each of the four volumes (so far) contains about 20 short stories.  The chronological arrangement in each book adds a nice bit of continuity.  Overall the quality is pretty strong, with each volume having several very good tales and quite a few good ones.  You can read the books in any sequence.  I did not have a clear favorite, with perhaps a small preference for Volume I.  ($24.95 SRP paperback, ~$10 Kindle; Amazon US listing for all volumes)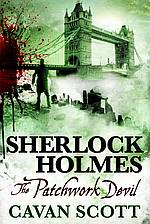 Holmes is pulled out of retirement in 1919 when Scotland Yard finds a freshly severed hand from a soldier killed two years earlier.  This fast-paced novel goes even further into the realm of science fiction/fantasy than "The Creeping Man," and turns into more of an action-adventure than a traditional Holmes mystery.  A cantankerous and independent Watson is less of a sidekick than usual.  The writing style and tone differ from the original tales, but seem plausible given the 1919 setting and the characters' ages.  While the plot relies too much on coincidence, especially near the climax, this novel should satisfy Holmes fans who like action and science fiction.  ($14.95 SRP; Amazon US listing $10.75)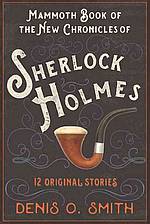 Denis O. Smith is a master at writing high-quality pastiches.  Like his Lost Chronicles, these 12 new tales feature an authentic Watson style with plausible plots, good deductions, and interesting characters.  The stories tend to be longer and slower-paced than Conan Doyle's, but they excel at sounding and feeling like the Canon.  They range from a gothic tale involving a possible monster to one in which Holmes recounts a mystery he solved when only 12 years old.  Several stories are excellent and all the rest are very good, making this a highly satisfying collection.  The 531-page printed edition uses rather small type, so some readers may prefer the Kindle version's adjustable fonts.  ($16.99 SRP; Amazon US listing $16.99)
See also the current Year's Best Holmes fiction and the Best Holmes fiction from other years for more excellent choices.
---
The year's best DVDs, Blu-ray Discs, videos, movie-related and audio items released in 2016.  See also About the Choices. 
Prices as of November 2016; subject to change.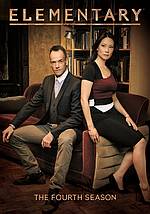 Fine writing and superb acting make Elementary the best show on network TV, and these qualities stand out even more when binge-watching it on DVD.  This season continues the inventive and twisty stories of prior years while adding a subplot spanning 13 episodes involving Sherlock's father, played by John Noble with a chilling and often sinister precision.  Holmes fans will especially enjoy a skillful reimagining of The Hound and another episode that makes good use of elements from A Study in Scarlet.  Perhaps the best episode, "Miss Taken," features a first-rate script and an exceptional performance by Ally Ioannides.  The 6 DVD set has optional subtitles and an hour of extras.  Even if you saw the series on CBS, it's well worth watching again on DVD.  ($55.98 SRP; Amazon US listing $34.99)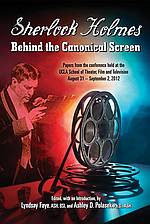 Fans of Holmes on TV and in the movies should not miss this collection of 18 papers, interviews, and discussions from the 2012 BSI Conference at UCLA.  From a superb opening overview of Holmes on screen by Jeffory Hart, to a fascinating interview with Elementary's creator Rob Doherty just prior to the series premiere, this well-illustrated volume overflows with excellent material.  Filmmakers Nicholas Meyer and John Landis discuss adapting Holmes for the screen.  Disney animation fans will enjoy a talk about The Great Mouse Detective by co-directors John Musker and Ron Clements.  While not encyclopedic in coverage, this is the best book on the subject that I have read.  ($29.95 SRP; not on Amazon; see BSJ website)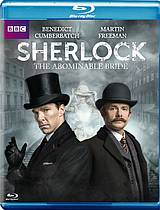 This special episode of the BBC Sherlock is a clever and stylish tribute to the original Holmes tales, set partially in Victorian England with numerous scenes, quotations and elements from Conan Doyle's stories.  While it could have been done better as a straight Victorian standalone, this episode is very much intended for fans of the BBC series, including many critical ties to that storyline. With excellent production values and visual effects, it is a delight to watch even if you're not keen on the plot or the satire.  The 90-minutes of extras cover a wide range of topics in formats that keep your interest and are very good indeed.  ($22.99 SRP; Amazon US listing $12.96 DVD, $21.59 Blu-ray)
Other Options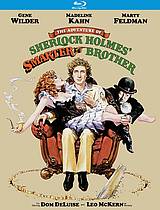 After starring in Young Frankenstein, Gene Wilder went on to write and direct this 1975 Holmes parody.  While mainly a series of sketches to showcase the actors, this musical comedy does borrow a surprising number of plot elements, characters, and references from various Holmes tales.  Wilder, Marty Feldman, Madeline Kahn, and Dom DeLuise bring a zany touch to otherwise middling material, and Douglas Wilmer and Thorley Walters appear briefly as Sherlock Holmes and Dr. Watson.  Holmes fans will find it worth watching once, but if you already have the DVD, don't bother with this Blu-ray.  For better comedies, see Without a Clue (also on this triple-play value disc), or Wilder's non-Sherlockian Young Frankenstein or Silver Streak.  ($29.95 SRP; Amazon US listing $19.47)
See also the current Year's Best Holmes DVDs & movies and the Best Holmes movies from other years for more excellent choices.
---
The year's best books about Holmes or Conan Doyle published in 2016.  Listed in order by author, see also About the Choices and E-books. 
Prices as of November 2016; subject to change.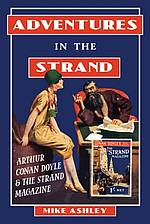 Ashley, one of the foremost experts on British magazines, provides a highly readable account that's part history of the Strand Magazine and part Conan Doyle biography.  Their connection through Holmes is well known and Ashley does a good job covering it. He goes far beyond that, however, with an extensive look at Doyle's other contributions to the Strand.  Passages and descriptions from many of these, along with a nice set of rarely-seen illustrations, will give readers a fine sense of Conan Doyle's range and how his work first reached the public.  Whether you want to learn about the Strand or about Conan Doyle, you'll find this to be an enjoyable and informative read.  ($34.95 SRP; Amazon US listing $22.86)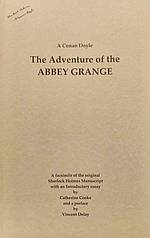 For the first time ever, you can own a Holmes manuscript facsimile that reproduces every part of the manuscript, in color, and at the original size.  This 13.5 x 8.5 inch volume shows everything: the original vellum binding, the endpapers, the handwritten title page, and both sides of the manuscript's 26 leaves.  It also includes a preface by Vincent Delay and a 16-page introduction by Catherine Cooke.  The large size makes it cumbersome to hold and shelve, but also makes it easier to read Conan Doyle's handwriting than in the smaller-format BSI reproductions. The BSI books also contain essays about the story as well as a transcription and some additional detail.  However, this volume comes closer to replicating the look and feel of an original than any previously published.  ($65.00 SRP including shipping from the UK; not on Amazon; see SHSL website)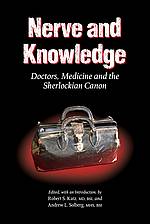 Subtitled "Doctors, Medicine and the Sherlockian Canon," this anthology covers a surprisingly wide range of medical topics.  Daniel Stashower provides a fine opening essay on Conan Doyle at Edinburgh Medical School.  Pasquale and Jennifer Accardo discuss Dr. Watson and the reality of a general practitioner in Victorian times.  Many of the Holmes tales mention "brain fever," and Enrico Solito and Stefano Guerra deliver the final word on this vexing reference.  Most of the articles are quite good, and even the weaker ones are informative.  ($39.95 SRP; not on Amazon; see BSJ website)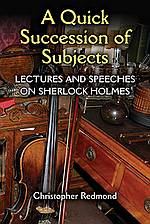 Chris Redmond has produced several excellent Sherlockian books, including his Sherlock Holmes Handbook and the About Sixty collection below.  In A Quick Succession of Subjects, we are treated to 27 of his lectures and speeches given from 1981 to 2015.  Presented chronologically, some offer serious Sherlockian or Doylean scholarship, while others are mostly humorous, but all are well-written and insightful.  His speech on presenting Sherlockian papers is a must-read for anyone planning to do so at a Holmes conference or meeting, and the book overall provides superb examples of how to choose and craft fine speeches on a wide range of topics.  ($19.95 SRP; not on Amazon; see Wessex Press)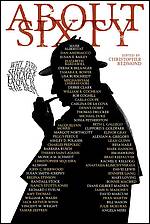 Sixty contributors each make a case for a different Conan Doyle story being the best in the Canon. Their essays generally avoid detailed plot summaries and assume you've already read the stories.  While not every Holmes tale is great, most of the essays do a nice job of describing what is best about that tale.  The essays on the 56 short stories are quick reads at only 3-4 pages each, and the variety of sixty viewpoints and writing styles keeps it interesting.  This is a great book to dip into before discussing a tale with others.  Even long-time Sherlockians will gain new insights and perspectives on both widely-acclaimed stories and on ones we rarely think about.  ($14.99 SRP; Amazon US listing $14.99)
Sherlock Holmes: Behind the Canonical Screen by Lyndsay Faye and Ashley Polasek (eds.)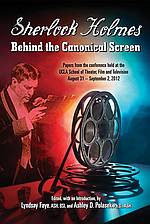 See my Behind the Canonical Screen review above in the DVD section for information on this excellent collection of essays about Holmes on TV and in the movies.
See also the current Year's Best Books About Holmes & Doyle and the Best Books About Holmes & Doyle from other years for more fine choices.
---
This site first published its "Best of Year" reviews and recommendations in 2009. See the current Year's Best Sherlock Holmes books and movies and the Other Years' Best Sherlock Holmes books and DVDs. People just getting started with Holmes should see the best choices for new Sherlockians.
This page's 2016 list was first posted on November 1, 2016.
---
A Kindle version of most of these books is available, but I don't list the e-book or its price unless it's hard to find on Amazon. Typically the Kindle Edition will be listed in the Formats box to the right of a book's cover photo.
When a book is available in both print and e-text, I review the print edition.
Return to Holmes Fiction or to Books About Holmes & Doyle.
---
My choices are based on 30+ years of reading and collecting Sherlockiana. I'm a member of the Baker Street Irregulars, have written numerous Sherlockian articles, and have spoken about Conan Doyle rarities for conferences at Harvard and the University of Minnesota.
I limited the number of items in order to make this list easier and faster for people to use. Items released near the end of 2016 may not be on this list, so be sure to check my 2017 recommendations as well. And see these details on my selection process and criteria.
In most cases I've given both the U.S. suggested retail price (SRP) and the price at Amazon as of November 2016; those prices are of course subject to change.
---
The 10 Best Gifts for New Sherlock Holmes Fans
The Current Year's Best Sherlock Holmes books and DVDs / Blu-ray
Best Sherlock Holmes books and DVDs / Blu-ray from prior years
The 10 Best Basil Rathbone Sherlock Holmes Movies and DVDs
The Best Sherlock Holmes Stories
The Top 10 Quotes from the Sherlock Holmes stories
Other Top 10 Lists for Sherlock Holmes and Conan Doyle
---