The Best of Sherlock Holmes
Laurie King Talks About
Writing, Russell, and Holmes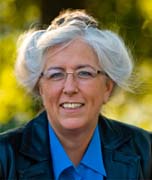 Laurie R. King is a New York Times bestselling author of detective fiction.† She won the 1994 Edgar Award for Best First Novel and is known for her Mary Russell series featuring Sherlock Holmes and her Kate Martinelli series set in San Francisco.†
Speaking in California at the Los Altos library in June 2010, she explained that she didn't begin writing until 1987 at age 35.† While King had not read a lot of Holmes stories at that point, she thought her idea for the Russell series was probably inspired by watching some of the Jeremy Brett episodes on PBS.† They made her speculate about what Holmes might have been like as a woman in a post-Victorian setting.† This evolved into Mary Russell, a young woman and feminist in the early twentieth century who became a partner of Sherlock Holmes.
It took six years to get her first book published in 1993.† By that time she had written two Mary Russell novels and A Grave Talent, the first Kate Martinelli book.† In retrospect she says it was lucky that her first published work was the Martinelli story.† That tale established her as a crime writer with an original concept rather than as a stereotypical beginning pastiche writer.† She won an Edgar for it and gained the recognition that allowed her to work on different types of stories.
Beyond Sherlock Holmes: A Series That's More Than a Pastiche
King does not view her Russell series as a pure pastiche.† Conan Doyle ended the Holmes stories in 1914, and so the events of her series don't have to fit into the Canonical tales.† She's able to develop Holmes as a person who continues to evolve and adapt to a country changed by war and culture.
Many pastiches try and fail to capture the voice of Watson.† King avoids this problem by writing most of the stories in the first person with Russell as narrator.† Holmes is a key character, but Mary Russell is clearly the protagonist.† In addition, King usually has Russell and Holmes take separate paths throughout a book and get together only occasionally.† While King thinks her readers probably want more scenes with both characters, she finds these parts to be especially difficult to write.
The Pleasure and Peril of Change
She's now published more than twenty-five books including the Mary Russell series, her Martinelli books, and non-series titles.† They intentionally cover a range of subjects and characters.† King enjoys the variety and prefers to work on something different after completing one type of story.† When she did write two Russell books back-to-back, she placed The Game and Locked Rooms in entirely different settings with very different characters.† This variation in her work presents something of a challenge to her publisher's marketing and sales department.† At one point their sales brochure ended up saying "Laurie R. King's Next Book is Always a Mystery."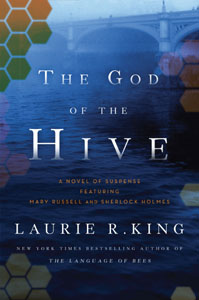 In 2009 she came up with a "large idea" for a Russell story and found that it really would not fit into a single book.† She and her publisher decided to split it into two volumes.† The first, The Language of Bees, ends with a dramatic climax but clearly leaves many points unresolved.† The second book, The God of the Hive, concludes the storyline.† Most of it is narrated by Russell, but King found she could add some variety and better serve the plot by writing from five points of view in this book.
Getting a title for this story was challenging.† Her publisher did not care for her working title of "The Green Man" and she vetoed a proposed "Beekeeper's Grand-daughter."† She offered numerous other titles but none resonated, and eventually asked for suggestions on her website.† This brought in more than 900 contributions, which she edited down to about a hundred and passed along to her publisher.† When none of those worked, they focused on titles involving "Hive."† King has degrees in comparative religion and Old Testament theology, and didn't think the publisher would find using "God" in the title to be acceptable, but to her surprise got approval when she finally suggested it.
She made this book more of a thriller than some of her prior volumes, with shorter chapters and more action to keep the reader engaged.† This certainly worked for me.† It's somewhat lighter in tone than The Language of Bees and the pacing is better.† As always King's writing quality sets her books apart from the majority of pastiches.† My only criticism is that the ending seemed a bit rushed and a little anticlimactic, but even so I consider it one of the better Russell books and chose it as a 2010 Holmes book selection.
Will Mary Russell Walk the Plank With Pirates?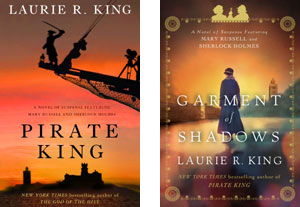 Although she wanted to work on a non-Russell book next, her publisher and the public pushed hard for another in the series.† That book, The Pirate King was published in September 2011.† In it, Russell is dragged into events involving a film crew making a movie about a movie of The Pirates of Penzance.† To provide some of that variety she cherishes, it's a bit of a farce and has more humor than some of her prior books.† I really enjoyed it and recommended the Pirate King as one of the best Holmes books of 2011.
Part of the story takes place in Morocco, and King spent a week there doing research.† She rarely writes about places that she has not visited at least briefly.† King feels that placing her stories in foreign locations lets her more fully develop the characters, and it helps to level the playing field between Holmes and Russell.
Another Desert Drama for Mary Russell
In June 2010, King had been thinking of following The Pirate King with a sequel to the non-Russell Touchstone set in Paris in the late 1920s.† However, Russell (or possibly King's publisher) prevailed once again.† By the spring of 2011 King had written some 70 pages for the new book.
Published in September 2012, Garment of Shadows also takes place in Morocco, but can be read separately since the plot has only a few ties to the previous story.† It's a good read and I chose it for my 2012 Holmes book list.† However, I liked The Pirate King better.
Spies and Murder
After writing four Russell/Holmes books in a row, King needed a change of pace and produced The Bones of Paris (2013), a sequel to her 2008 novel Touchstone.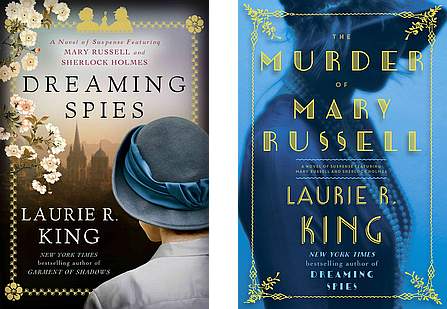 She returned to Mary Russell in March 2015 with Dreaming Spies. Much of it builds on the action from an older book, Locked Rooms (2005), and takes place first on a cruise and then in Japan.† As usual her writing is engaging and the cruise/Japan travelogue is well done.† However, the pacing is slower than usual, there is little mystery though much of the story, and Holmes lacks the presence and sparkle of earlier tales.† While still a good read, it's a weaker entry and people new to the series should start with an earlier book.
King explored new territory with her next Russell book, bringing in many more elements from the original Holmes stories and finding a better balance of Russell, Holmes, and Sherlockiana.† I selected The Murder of Mary Russell as one of the best Holmes-related books of 2016.
Another Russell book arrived later in 2016.† This collection of Russell short stories, entitled Mary Russellís War (2016) includes nine previously published short stories and one new Holmes mystery.† Many of the stories appeared previously as e-books, and this is the first mass distribution print volume for many of the tales.
More from the Baker Street Inventory
Besides her Russell books, King has co-edited a number of other Holmes related books.† The Grand Game Volume One (2011) is a collection of some of the best Sherlockian scholarship from 1902 to 1959 about the Holmes stories.† A second volume covering 1960 to 2010 of The Grand Game is still available from the BSJ website.
On the fictional side of Holmes, King and Leslie S. Klinger have co-edited several collections of short stories by popular authors that are (often loosely) inspired by the Holmes stories, characters, or world.† I've selected these in my annual "best of the year" lists, including:
What's Next for Mary Russell and Laurie King?
King's next book had a working title of "Career Day," and she announced in October 2016 that the final title will be Lockdown.† It involves troubles at a middle school and is not a Mary Russell story.
While the Mary Russell books can stand alone, most readers will enjoy them more by starting with the first in the series and reading them in sequence.† That's especially true for The Language of Bees and The God of the Hive, which, although very different in tone and pacing, share many key characters and plot elements. †At a minimum, those two books should be read in sequence.
The Beekeeper's Apprentice (1994, Amazon US listing)
A Monstrous Regiment of Women (1995, Amazon US listing)
A Letter of Mary (1997, Amazon US listing)
The Moor (1998, Amazon US listing)
O Jerusalem (1999, Amazon US listing)
Justice Hall (2002, Amazon US listing)
The Game (2004, Amazon US listing)
Locked Rooms (2005, Amazon US listing)
Dreaming Spies (2015, Amazon US listing)
The Murder of Mary Russell (2016)
Mary Russell's War and Other Stories of Suspense (2016, Amazon US listing)
I began publishing a round-up review of the year's best Sherlock Holmes books in 2009. The links above will take you to those reviews, with further links to details on Amazon about the books.
Photos courtesy of Laurie R. King
---
The Best Sherlock Holmes Stories
The 10 Best Gifts for New Sherlock Holmes Fans
The Current Year's Best Sherlock Holmes books and DVDs / Blu-ray
Best Sherlock Holmes books and DVDs / Blu-ray from prior years
The 10 Best Basil Rathbone Sherlock Holmes Movies and DVDs
Other Top 10 Lists for Sherlock Holmes and Conan Doyle
---