The Best of Sherlock Holmes
Best 2010
Sherlock Holmes Books,
Movies, DVDs, & More
By Randall Stock, November 19, 2010
Sherlock Holmes is more popular than ever, which means there are lots of new books, movies, and Sherlockiana. The reviews and recommendations below can help you focus on the best ones from 2010. If you're just getting started with Holmes, see the Top 10 Choices for New Fans. This site also reviews newer Sherlockian items to consider.
Newer Recommended Sherlockiana and the Best Holmes books, DVDs, & Blu-Ray from other years
---
The year's best fictional Holmes books published in 2010.  Listed in order by author, see also About the Choices and E-books. 
Prices as of November 2010; subject to change.

In a spinoff series taking place after the original Holmes tales, the detective marries an intellectual younger woman named Mary Russell and they investigate mysteries around the world. King writes very well indeed, and her stories, which have a somewhat feminist perspective not found in the Conan Doyle originals, are compelling. This volume provides the conclusion to last year's The Language of Bees (which I also recommended) and I enjoyed this book even more. See my feature on Laurie King talks about writing and Russell for more details. Tenth in the Mary Russell series beginning with The Beekeeper's Apprentice – I suggest starting with that first book. ($25.00 SRP; Amazon US listing $15.67)

Ten new stories about Sherlock Holmes as a young man in America. These are not your traditional Holmes tales and lack Watson as narrator, but they often show good knowledge of Sherlockiana and a number of them are quite clever. Not to be confused with last year's Sherlock Holmes in America. Contributors include Richard A. Lupoff and Steve Hockensmith.
($25.99 SRP; Amazon US listing $18.71)

Springer's series about Sherlock Holmes's younger sister offers fine mysteries with an engaging, smart and strong 14-year-old Enola Holmes as the leading character. Last year's book in the series was nominated for both Edgar and Agatha best young adult mystery awards. The series starts with The Case of the Missing Marquess and you may want to begin with it.
($14.99 SRP; Amazon US listing $10.19)
See also the current Year's Best Holmes fiction and the Best Holmes fiction from other years for more excellent choices.
---
The year's best DVDs, Blu-ray Discs, videos, movie-related and audio items released in 2010.  See also About the Choices. 
Prices as of November 2010; subject to change.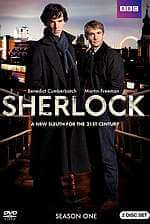 Simply brilliant, and the must-buy Holmes gift of 2010. Set in present-day London, this new TV series offers a modern take on Holmes and Watson while keeping to the spirit of the original tales. Sherlockians will delight in the clever use of elements from the originals, while casual viewers will enjoy the fast-paced modern mysteries and adventures. Benedict Cumberbatch and Martin Freeman dazzle as Holmes and Watson. The two discs feature all three original uncut UK BBC episodes, which are each 8 minutes longer than the abridged versions shown by PBS in the USA. Extras include a 32-minute making-of featurette, audio commentary, optional English subtitles, and the unaired 55-minute pilot episode. That pilot, "A Study in Pink," was rewritten and expanded into the first and best episode, which was then actually shot last. The Blu-ray has the same content but in 1080i. Like the CSI TV series, some material might be too mature for children. ($34.98 SRP; Amazon US listing $23.99 DVD, $27.99 Blu-ray)

The first non-comedy theatrical Holmes film in 30 years, this blockbuster reimagining of Holmes focuses on action and spectacle. The production quality is generally impressive, Downey offers a Holmes who is eccentric, energetic, and athletic, while Jude Law is an excellent and capable Watson. Downey and Law have great chemistry. The plot seemed weak but on second viewing is better than I'd originally thought. Both the Blu-ray and DVD come with a 14-minute featurette about making the movie. The Blu-ray includes another 30 minutes of featurettes, an interesting interactive film commentary, and an extra copy of the movie on a separate DVD. ($19.98 SRP; Amazon US listing $11.99 DVD, $17.49 Blu-ray)

Douglas Wilmer and Nigel Stock star in this well-regarded 1964-65 BBC TV series. The pilot appeared in May 1964 and public response drove the creation of 12 more episodes which aired in 1965. Two no longer exist, but this set contains the 11 extant episodes including the deservedly-praised "Speckled Band", "Devil's Foot", "Beryl Coronet", and "Retired Colourman." Made on a mix of videotape and film, the picture is often grainy but the locations, sets, and costumes are suitably atmospheric and quite good for a TV series. Strong casting includes fine performances by Peter Wyngarde, Barry Jones, and a young David Burke as villains. The scripts expand on the backstory of each mystery while remaining faithful to the original tales. Better than I expected and definitely worth getting. Full screen, B&W, optional English subtitles, 550 minutes, 2 two-sided DVDs. ($19.98 SRP; Amazon US listing $15.99)

Based on the Basil of Baker Street children's books by Eve Titus, this Disney animated film features a new digital restoration with a clearly sharper and richer picture. It includes a new 5-minute bonus extra plus a couple featurettes, though it lacks two shorts and a scrap-book included on an earlier DVD version. Fun for Sherlockians and kids, recommended if you don't have the older DVD. ($19.99 SRP; Amazon US listing $14.99)

First shown on television in the early 1970s (on PBS in America), this anthology series featured the best non-Sherlockian detective stories by Sir Arthur's contemporaries. With many fine actors and good adaptations, this set includes 13 programs of roughly 50 minutes each on 4 DVDs. The episodes are a bit stagey and a large screen shows the limitations of their sets, but this is a rare chance to see Holmes-era detectives such as Professor Van Dusen (the Thinking Machine in the classic "Problem of Cell 13") and Dr. Thorndyke. The first set in the series is also worth watching and has other famous detectives including Max Carrados and Carnacki. These are interesting and worthwhile, but don't expect Holmes – neither set has any Holmes story. Full-screen, in color, with optional subtitles and bonus profiles of the detectives and their creators. ($59.99 SRP; Amazon US listing $52.49)

Conan Doyle's brother-in-law wrote the Raffles stories about a gentlemen thief. There's no connection to Holmes except the Victorian period and some elements of "Charles Augustus Milverton." Yet this 1977 very British TV series is surprisingly good fun and should appeal to Masterpiece viewers wanting light entertainment. The 4-disc set has all 14 episodes including the 1975 pilot. Full-screen, in color, with no subtitles but including a very nice text introduction before each episode. ($59.99 SRP; Amazon US listing $40.99)
Other DVDs of Interest
For under $10, bargain hunters can get a two-sided DVD with three of Matt Frewer's four Holmes movies in The Sherlock Holmes Collection. These made-for-TV movies from 2000-2002 are decent productions though people tend to love or hate Frewer. Since it's new on DVD, completists may want to consider The Crucifer of Blood (SRP $14.98), a 1991 made-for-cable movie based on the play and starring Charlton Heston. It's generally rated below the Frewer pictures.
Bending the Willow: Jeremy Brett as Sherlock Holmes by David Stuart Davies (2010 rev. ed.)
A fine book about Brett and the Granada series, see Bending the Willow details below.
See also the current Year's Best Holmes DVDs & movies and the Best Holmes movies from other years for more excellent choices.
---
The year's best books about Holmes or Conan Doyle published in 2010.  Listed in order by author, see also About the Choices and E-books. 
Prices as of November 2010; subject to change.
Papers at an Exhibition by Peter X. Accardo, John Bergquist, and Dan Posnansky (eds.)

This volume includes all the papers read at the Harvard Symposium for the Conan Doyle Sesquicentennial. It's a mostly serious look at Doyle and Holmes, but "the game" does make an appearance. 
($35.00 SRP; not on Amazon; see BSJ website)
BSI Harvard Limited Edition Boxed Set

This boxed set includes special signed and limited editions of three Harvard-related books. Produced in a matching Harvard crimson binding with gold stamping, they come in a similarly-stamped slipcase noting the Conan Doyle Sesquicentennial at Harvard. Each book in the 75 sets has a signed and numbered limitation page, which offers special appeal for the serious Sherlockian collector. The books are Papers at an Exhibition (regular edition described above), the "Three Students" manuscript facsimile So Painful a Scandal (regular edition a 2009 pick), and the Harvard Exhibition catalog Ever Westward (only sold as part of this boxed set).
($195.00 SRP; not on Amazon; see BSJ website)
Sherlock Holmes, Conan Doyle and The Bookman by S. E. Dahlinger and Leslie S. Klinger (eds.)

Much of the best early writing about Sherlock Holmes came out in The Bookman, an American literary magazine from 1895 to 1933. This complete collection of The Bookman's Sherlockian and Doylean material has articles, reviews, parodies, and commentary, including contributions from Stephen Vincent Benét, Conan Doyle, Edmund Pearson, and Vincent Starrett. The editors annotated some of the pieces and provide page and date citations for each item. Although it lacks an index, this handsomely produced hardcover comes with a nice set of illustrations. It's a good read and a useful reference volume.
($29.95 SRP; not on Amazon; see Wessex Press)
Sherlockian Heresies by Léo Sauvage; Julie McKuras and Susan Vizoskie (eds.)

Journalist and author Léo Sauvage was writing a book about the Holmes tales when he died in 1988. Finally published in 2010, the editors provide a valuable extended introduction and extensive annotations. It should appeal to those who enjoy Dakin's Sherlock Holmes Commentary and "playing the game."
($19.95 SRP; not on Amazon; see Wessex Press)
Sherlock Alive by Vincent Starrett; Karen Murdock (ed.)

Vincent Starrett was a bookman extraordinaire, and his "Books Alive" column in the Chicago Daily News and the Chicago Tribune made for great reading about the literary and Sherlockian worlds from 1942 to 1967. Karen Murdock provides useful annotations and background for all these articles. Starrett of course writes very well, and the book is a pleasure to read.
($35.00 SRP; not on Amazon; see Battered Silicon Dispatch Box)
Bending the Willow: Jeremy Brett as Sherlock Holmes by David Stuart Davies (2010 rev. ed.)

Many Sherlockians feel that the Granada series (on PBS in America) offered the very best on-screen adaptations of the original Holmes tales, and found Jeremy Brett's performance to be exceptional in the early episodes. Davies writes with skill and insight on both Brett and series. Released in a 2010 revised second edition with 70 photographs, this edition adds a brief reminiscence of Jeremy Brett by David Burke and a new two-page afterword by Davies. An excellent book if you don't already have an older edition.
($35.00 SRP; not on Amazon; see Calabash Press)
See also the current Year's Best Books About Holmes & Doyle and the Best Books About Holmes & Doyle from other years for more fine choices.
---
A Kindle version of most of these books is available, but I don't list the e-book or its price unless it's hard to find on Amazon. Typically the Kindle Edition will be listed in the Formats box to the right of a book's cover photo.
When a book is available in both print and e-text, I review the print edition.
Return to Holmes Fiction or to Books About Holmes & Doyle.
---
My choices are based on 30+ years of reading and collecting Sherlockiana. I'm a member of the Baker Street Irregulars, have written numerous Sherlockian articles, and have spoken about Conan Doyle rarities for conferences at Harvard and the University of Minnesota.
I limited the number of items in order to make this list easier and faster for people to use. Items released near the end of 2010 may not be on this list, so be sure to check my 2011 recommendations as well. And see these details on my selection process and criteria.
In most cases I've given both the U.S. suggested retail price (SRP) and the price at Amazon as of November 2010; those prices are of course subject to change.
---
The 10 Best Gifts for New Sherlock Holmes Fans
The Current Year's Best Sherlock Holmes books and DVDs / Blu-ray
Best Sherlock Holmes books and DVDs / Blu-ray from prior years
The 10 Best Basil Rathbone Sherlock Holmes Movies and DVDs
The Best Sherlock Holmes Stories
The Top 10 Quotes from the Sherlock Holmes stories
Other Top 10 Lists for Sherlock Holmes and Conan Doyle
---