The Best of Sherlock Holmes
Best 2015
Sherlock Holmes Books,
Movies, DVDs, & More
By Randall Stock, November 10, 2015 (History)
Sherlock Holmes is more popular than ever, which means there are lots of new books, movies, and Sherlockiana. The reviews and recommendations below can help you focus on the best ones from 2015. If you're just getting started with Holmes, see the Top 10 Choices for New Fans. This site also reviews newer Sherlockian items to consider.
Newer Recommended Sherlockiana and the Best Holmes books, DVDs, & Blu-Ray from other years
---
The year's best fictional Holmes books published in 2015.  Listed in order by author, see also About the Choices and E-books. 
Prices as of November 2015; subject to change.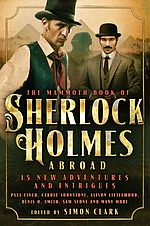 Despite a dubious concept of stories that take place outside of England, this anthology of 15 new Holmes tales manages to deliver a number that most readers will enjoy. Dennis O. Smith excels at the Watson style and provides a fine traditional Holmes mystery. William Meikle offers a solid adventure in the catacombs of Malta, Alison Littlewood provides an atmospheric tale with supernatural questions, and Nev Fountain adroitly twists the worlds of Holmes, Conan Doyle and Houdini. Overall the book is a good value, although many stories are not conventional Holmes tales and I suspect readers will skim over a few that are simply not to their taste. ($14.95 SRP; Amazon US listing $10.91)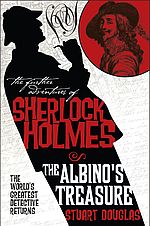 An anarchist plot and a forged painting lead Holmes and Watson into a treasure hunt with elements reminiscent of The Sign of Four. Their quest takes them to a fiendish Chinese villain and a master criminal known as The Albino. Douglas, who wrote a strong short story in Encounters of Sherlock Holmes (2013), sets the tale in a realistic version of 1896 London, and fills it with characters that are neither wholly good nor entirely bad. Like Conan Doyle, some of his plot points don't withstand close scrutiny, but his style is reasonably Victorian and his story carries you briskly along for an enjoyable Sherlockian adventure. ($9.95 SRP; Amazon US listing $9.16)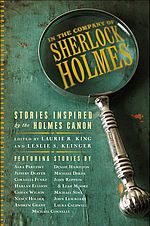 Clever twists abound in this eclectic anthology of all-new stories by top writers. But be warned: like A Study in Sherlock, the Holmes connections are sometimes very loose, and these are not traditional Holmes mysteries. They include a retelling of "Silver Blaze" from the horse's perspective, and a recap of The Hound as Facebook-style posts. Three of the best are Jeffrey Deaver's modern tale of a brilliant man who finds his hero in the Holmes stories, Michael Dirda's delightful sendup of the "grand game," and Nancy Holder's spin on the aftermath of "The Beryl Coronet." ($24.95 SRP; Amazon US listing $19.05 hardcover, paperback available Dec. 7, 2015)
Marcum's five Holmes short stories have Watson as narrator, Holmes as the main character, settings in 1878 to 1905 England, and plots that don't rely on the supernatural, science fiction, or famous historical or literary personas. Unlike the Canon, these stories often involve multiple cases, with some in flashback. Recounting past experiences works well in a tale involving Wiggins's mother, but makes some of the others seem a bit passive. His shortest story, the "Goat-Cart Man," is pleasingly eccentric and felt the most like the Canon. While no one can write short stories like Conan Doyle, Marcum's collection will appeal to those who like the traditional elements of the Holmes tales. ($14.95 SRP; Amazon US listing $14.95)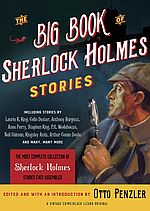 If you could own only one anthology of Holmes pastiches, this is your best choice. Noted mystery expert Otto Penzler selects 83 of the most important pastiches and parodies, and includes introductions to each one with key background about it and its author. Originally published from the 1890s to the 2000s, these stories are all reprints and thus long-time Sherlockians will own many of them already. Yet I found some that I had never read before, and enjoyed revisiting others, especially with Penzler's introductions. ($25.00 SRP; Amazon US listing $19.32)
See also the current Year's Best Holmes fiction and the Best Holmes fiction from other years for more excellent choices.
---
The year's best DVDs, Blu-ray Discs, videos, movie-related and audio items released in 2015.  See also About the Choices. 
Prices as of November 2015; subject to change.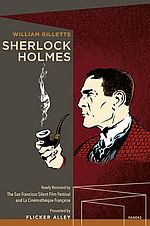 Long thought to be lost, this silent-film version of Gillette's famous play was found in 2014 and restored to nearly original condition. It's worth getting purely for the chance to finally see Gillette in action as Holmes. Highlights include Gillette's performance, excellent picture quality for a 1916 film, and numerous extras in this Blu-ray/DVD combo pack. These include the full 11.5 minutes of Conan Doyle's Fox Movietone interview, and it's fascinating to see and hear him. Robert Byrne gives a superb presentation about restoring the film. A 20-page booklet has several excellent essays. All the extras are on both Blu-ray and DVD except for the play script and contract, which are on DVD only. ($39.95 SRP; Amazon US listing $34.99 DVD+Blu-ray combo)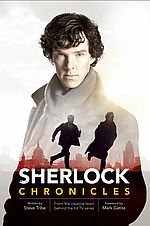 Fans of the BBC Sherlock series should not miss this spectacular book with the inside story covering all three seasons of the show. With color photos on almost every page, this deluxe hardcover is a delight to browse and full of fascinating details. You learn about how the show was developed, casting, sets, production choices, deleted scenes, and more. Commentary by cast and crew adds yet another dimension. I knew some of this from the "extras" on DVDs and various news reports, but Steve Tribe pulls it all together and expands on it to provide an engrossing book that's as much fun to read as the show is to watch. ($29.99 SRP; Amazon US listing $21.77)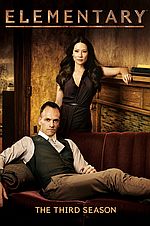 The first season of Elementary was a wonderful surprise, and the second season continued this excellent mystery and drama series. Now with more episodes in the series than there were original Holmes stories, the third season largely maintains the strong twisty plots while making the characters even more human and believable. It features an extended story arc with Kitty Winter, played very well indeed by Ophelia Lovibond, and other elements from "The Illustrious Client." I enjoyed watching this season on DVD at least as much as my first viewing on CBS. The 6-DVD set includes an hour of extras, most of which are quite interesting, as well as optional subtitles and an audio commentary by Lucy Liu on an episode she directed. ($55.98 SRP; Amazon US listing $31.99 DVD)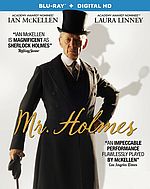 Ian McKellen gives an Oscar-worthy performance as a 93-year old Holmes struggling with failing mental and physical health. Based on A Slight Trick of the Mind by Mitch Cullin, this leisurely character-based drama relies on a well-crafted script with multiple timelines to hold your interest. The great acting and fine cinematography stand out in this emotionally involving film that ends up being melancholy rather than entirely downbeat. It will likely appeal more to those over 50 than to younger people looking for action or mystery. The limited extras are short and repetitive, adding minimal value. ($19.98 SRP; Amazon US listing $10.74 DVD, Blu-ray $16.98)
Other Options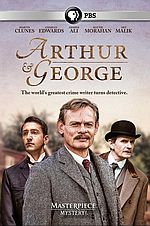 Completists or fans of period dramas might want to consider this miniseries based on the critically-acclaimed novel by Julian Barnes. Good costumes and location shooting enhance the production, and Martin Clunes makes for a believable Doyle. However, the script is middling, with uneven pacing that covers only a small part of the book and invents new material. Running less than 2.5 hours, it's best watched at one sitting. The DVD is relatively expensive and lacks any extras, though the optional English subtitles can be helpful as the accents and background noise can make it difficult to catch all the dialogue. Overall it's not bad, but most will find the novel to be more impressive. ($34.99 SRP; Amazon US listing $21.69 DVD, Blu-ray $27.79)
See also the current Year's Best Holmes DVDs & movies and the Best Holmes movies from other years for more excellent choices.
---
The year's best books about Holmes or Conan Doyle published in 2015.  Listed in order by author, see also About the Choices and E-books. 
Prices as of November 2015; subject to change.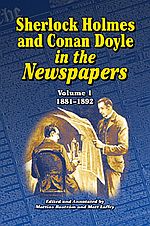 Newspapers provide the first rough draft of history and are invaluable sources, even if they often get some points wrong. Digital archives make these old reports more accessible, and the editors improved on these databases through careful selections and valuable annotations. They wisely placed articles in chronological order for casual reading and easy reference. Equally important, they included an extensive index for researchers. While the book has very limited magazine coverage, it's an incredibly handy reference and can give you a contemporary perspective on Holmes and Conan Doyle. ($32.95 SRP; not on Amazon; see Wessex Press)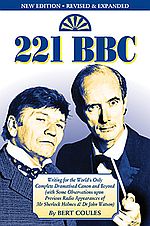 Even if you've never listened to a Holmes story, this insider account of the BBC Radio series is well worth reading. As the head writer from 1987 to 2010, Coules describes the origins of the series, how it developed, and how they adapted print stories into radio plays. Unlike straight text readings, these shows (starring Clive Merrison, at Amazon) were "imaginatively faithful" to the original tales. He gives first-hand details about writing and producing radio drama, and includes numerous examples from his scripts. With many color photos and a complete 45-page script from one of the shows, this new 297-page edition manages to be both fun to read and very informative. ($22.95 SRP; not on Amazon; see Wessex Press)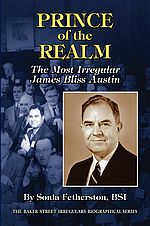 James Bliss Austin excelled as a businessman, a scientist, a scholar, and a collector. He was also a generous mentor to novice Holmes fans. His superb Sherlockian writings spanned more than 30 years, including a classic grand game paper "What Son Was Watson" (reprinted in this volume) and a legendary investigation of Helene Yuhasova presented at the 1976 BSI Dinner. Using both published sources and numerous personal interviews, this highly readable biography includes many fascinating stories about BSI Dinners, Sherlockian rarities, and other Sherlockian history. And in a nice improvement over many BSI books, it includes an index. ($21.95 SRP; not on Amazon; see BSJ website)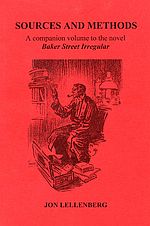 This companion volume to Lellenberg's historical espionage novel, Baker Street Irregular, provides a fascinating look into how he researched and wrote that story. It also offers a wealth of detail on American Sherlockians in the 1930s and 1940s, and thus a view into BSI history. Parts of it would be instructive to anyone thinking about writing historical fiction, but its core function is to annotate his novel and so is best read either in conjunction with the novel or shortly after finishing that book. The two work together to make the novel even more interesting. ($20.00 including postage; not on Amazon; see the author's website)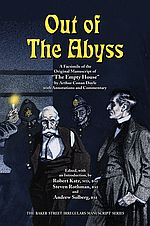 A generous offer by an American publisher encouraged Conan Doyle to bring Holmes back from the dead. He began the new series with "The Adventure of the Empty House," and this volume includes a facsimile of his original manuscript. As with Irregular Stain (2014), the 10x7 inch format is comfortable to hold and read while being large enough to show the details. However, the images are in grayscale, so some may prefer the color reproductions in Irregular Stain. As usual, the volume contains a side-by-side transcription of the manuscript with annotations, as well as the history of this rarity and some fine essays about various aspects of the story. ($39.95 SRP; not on Amazon; see BSJ website)
The Sherlock Chronicles by Steve Tribe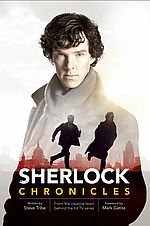 See my Sherlock Chronicles review in the DVD section above for information on this excellent book about the BBC Sherlock series.
See also the current Year's Best Books About Holmes & Doyle and the Best Books About Holmes & Doyle from other years for more fine choices.
---
This site first published its "Best of Year" reviews and recommendations in 2009. See the current Year's Best Sherlock Holmes books and movies and the Other Years' Best Sherlock Holmes books and DVDs. People just getting started with Holmes should see the best choices for new Sherlockians.
This page's 2015 list was first posted on November 1, 2015. I expanded my review of the Gillette Blu-ray/DVD when it was released on November 10, 2015.
---
A Kindle version of most of these books is available, but I don't list the e-book or its price unless it's hard to find on Amazon. Typically the Kindle Edition will be listed in the Formats box to the right of a book's cover photo.
When a book is available in both print and e-text, I review the print edition.
Return to Holmes Fiction or to Books About Holmes & Doyle.
---
My choices are based on 30+ years of reading and collecting Sherlockiana. I'm a member of the Baker Street Irregulars, have written numerous Sherlockian articles, and have spoken about Conan Doyle rarities for conferences at Harvard and the University of Minnesota.
I limited the number of items in order to make this list easier and faster for people to use. Items released near the end of 2015 may not be on this list, so be sure to check my 2016 recommendations as well. And see these details on my selection process and criteria.
In most cases I've given both the U.S. suggested retail price (SRP) and the price at Amazon as of November 2015; those prices are of course subject to change.
---
The 10 Best Gifts for New Sherlock Holmes Fans
The Current Year's Best Sherlock Holmes books and DVDs / Blu-ray
Best Sherlock Holmes books and DVDs / Blu-ray from prior years
The 10 Best Basil Rathbone Sherlock Holmes Movies and DVDs
The Best Sherlock Holmes Stories
The Top 10 Quotes from the Sherlock Holmes stories
Other Top 10 Lists for Sherlock Holmes and Conan Doyle
---