The Best of Sherlock Holmes
by Randall Stock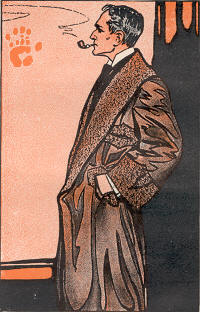 This website is devoted to covering noteworthy items related to Sherlock Holmes and Sir Arthur Conan Doyle. It includes lists of "the best" Holmes stories and quotations. It also includes information on Conan Doyle manuscripts, Beeton's Christmas Annual, Sherlockian and Doylean computer products, and more.
NEWS
The Year's Best Sherlock Holmes Books and Movies/TV for 2017
There are hundreds of Sherlock Holmes books and many movies. What should you get if you are a new fan of Holmes? I've noted the
10 Best Sherlock Holmes books and DVDs for new fans
, and also provided a list of the
Top Holmes Books and DVDs / Blu-ray from 2017
.
Conan Doyle 1894 Lecture Tour Manuscripts at Auction
Conan Doyle first visited America in 1894, and gave lectures in many different cities. Draft manuscripts and other items were sold at
Swann Auction Galleries in May 2017
.
Hound Manuscript Page Reported Stolen
Leaf H33 from Chapter 15 of
The Hound
has been reported stolen. The FBI can use your help to recover the
stolen Hound of the Baskervilles manuscript page
.
The First Sherlock Holmes Feature on Television
The Basil Rathbone movies helped change the broadcast industry, and even have a connection to the Holmes TV show starring Ronald Howard. Read about
1950s TV history and Sherlock Holmes
.
Laurie King on Writing Stories with Holmes
Laurie R. King is the
New York Times
best-selling author of a series of books involving Sherlock Holmes and Mary Russell. Her latest Holmes/Russell novel is
The Murder of Mary Russell
. See my feature on
Laurie King talks about writing, Russell, and Holmes
.
Auction of Three Holmes Manuscripts & More
An auction at Bonhams New York included manuscripts of three Holmes stories, a Conan Doyle historical novel and a WW1 short story. The manuscript of "Thor Bridge" sold for $269,000. See numerous photos and learn more about the
Bonhams 2016 auction
.
Paget Memorabilia and Sherlockian Association Items
Sidney Paget established the classic image of Sherlock Holmes, and his family retained an important collection of Sherlock Holmes association items. See this new checklist of
Sidney Paget Memorabilia
.
Five Brigadier Gerard Manuscripts Offered For Sale
The manuscript of the very first Brigadier Gerard story by Conan Doyle, as well as four other previously unrecorded manuscripts, were long feared to be lost. It turns out that Herbert F. Gunnison and his heirs have held them for more than 90 years. See photos and more about
five Brigadier Gerard manuscripts
.
More About Manuscripts
Only 36 original manuscript leaves are known to exist from the most famous Holmes story. See the
revised census of the Hound of the Baskervilles manuscript
with information and photos of many leaves. Or find the locations of all the
original Holmes manuscripts
. And there's more news about Conan Doyle material in the
manuscripts
section, including facsimiles of Holmes manuscripts, a checklist to more than 40 of ACD's other manuscripts, and links to online photos of Holmes manuscripts.
Photos of Original Holmes Drawings by Sidney Paget
Sidney Paget is justly famous for his Sherlock Holmes illustrations in
The Strand Magazine
. Only a few of his original Holmes drawings still exist. The revised Paget census now has photos of many of his original drawings. See the census of
Sidney Paget Original Drawings and Artwork
and this additional page with photos of
Paget paintings
.
The World's Most Expensive Magazine
Sherlock Holmes first appeared in November 1887 in
Beeton's Christmas Annual
. Described as the most expensive magazine in the world, with a copy selling for $156,000 at auction, it is rarer than a Shakespeare First Folio. Learn more in the
Beeton's 1887 checklist and census
.
Basil Rathbone versus Robert Downey, Jr.?
With two blockbuster Sherlock Holmes movies starring Robert Downey, Jr., it's only natural to wonder how they compare to the Basil Rathbone films. The Rathbone pictures are all on DVD – and Double Feature releases offer excellent quality at great prices. See this list of the
Best Basil Rathbone Sherlock Holmes movies
and recommended DVD versions.
The Best Sherlock Holmes Pastiche Says Ellery Queen
Ellery Queen thought that Vincent Starrett wrote one of the best Sherlock Holmes stories ever. This story first appeared as a booklet in 1920 that's now a rare collectible. See the newly-revised
Census of the First Edition of The Unique Hamlet by Vincent Starrett
and
read the full story
.
---
The Familiar Quotations of Sherlock Holmes
It's elementary that there are many excellent quotations in the Holmes stories. In fact, entire books of these popular passages have been published. But which of these are the most famous? Find out in The Ten Most Famous Quotations from the Sherlock Holmes Stories.
Best Holmes Stories
It's official! Sherlockian scholars have selected the best stories in the largest and most comprehensive appraisal ever made of the Sherlock Holmes tales. Poll results were published in the Baker Street Journal. Now you can read about that poll, plus many other polls over the years, at this site's section on The Best Sherlock Holmes Stories.
For Your Attention
Learn about some important books and other sections of this website from my Other Points of Interest.
Collect books? Check out my Sherlockian and Other Books for Sale
---