The Best of Sherlock Holmes
Best 2014
Sherlock Holmes Books,
Movies, DVDs, & More
By Randall Stock, December 9, 2014 (History)
Sherlock Holmes is more popular than ever, which means there are lots of new books, movies, and Sherlockiana. The reviews and recommendations below can help you focus on the best ones from 2014. If you're just getting started with Holmes, see the Top 10 Choices for New Fans. This site also reviews newer Sherlockian items to consider.
Newer Recommended Sherlockiana and the Best Holmes books, DVDs, & Blu-Ray from other years
---
The year's best fictional Holmes books published in 2014.  Listed in order by author, see also About the Choices and E-books. 
Prices as of November 2014; subject to change.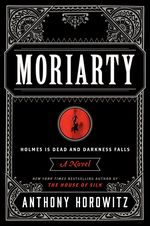 What really happened after Holmes and Moriarty battled at the Reichenbach Falls? The author of the excellent Holmes novel The House of Silk and creator of the BBC series Foyle's War offers a fast-paced and rather bloody explanation in Moriarty. Holmes and Watson do not appear, and although Inspector Athelney Jones provides some clever deductive moments, Sherlockian purists may prefer The House of Silk. A short-story prequel to Moriarty, "The Three Monarchs," is available in the USA only as an e-book and is a fun pastiche featuring Holmes and Watson. Moriarty succeeds as a gritty Victorian thriller with plenty of action and a chapter-ending plot twist that invites a second reading. ($26.99 SRP; Amazon US listing $19.88)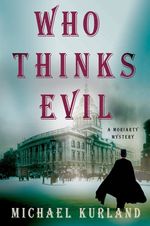 In the face of a new set of Jack the Ripper style murders with possible ties to the royal family, Mycroft Holmes calls on Professor Moriarty to investigate and hopefully clear the prime suspect. All five of Kurland's Moriarty novels are well worth reading, and I suggest starting with The Infernal Device omnibus. Isaac Asimov said Kurland "made Moriarty more interesting than Doyle ever made Holmes." Kurland does a fine job of fleshing out Moriarty and introducing other strong and interesting characters. While Sherlock Holmes makes only a brief appearance, Who Thinks Evil offers good deductions and a nice spin on the royalty-and-Ripper concept. ($25.99 SRP; Amazon US listing $19.55)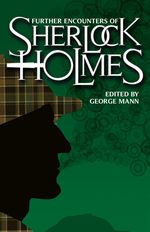 The 12 new pastiches in this anthology include both traditional mysteries and stories with an element of the supernatural or science fiction. There are good tales of each type, though overall Mann provided a stronger collection in last year's Encounters of Sherlock Holmes. Philip Marsh offers a fun locked-room mystery, and Mark Latham nicely balances supernatural overtones within a conventional tale. Guy Adams and Lou Anders both tell stories that some readers will love for their creativity, while others will dislike for the same reason. The stories don't match Conan Doyle's style, but most of the tales are narrated by Watson and set in the 1880s-1900s. ($14.95 SRP; Amazon US listing $12.06)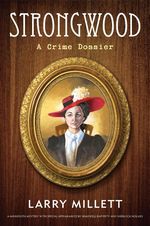 Addie Strongwood admits she killed a man, but was it murder or self-defense? While Sherlock Holmes makes only a cameo appearance, the latest in Millett's series is surprisingly engrossing. It focuses on Strongwood's trial and is told in a "true-crime" style using a dossier of newspaper articles, testimony and letters that are organized to provide a suspenseful narrative. Millett places his series in Minnesota in the 1890s-1900s, and excels at bringing this setting to life. Try the author's first book in the series, The Red Demon, if you want a Holmes tale. He is an afterthought in Strongwood, but it is still a good read. ($24.95 SRP; Amazon US listing $20.63)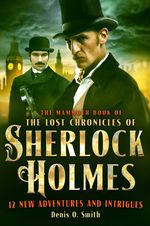 Denis O. Smith is unquestionably one of the best at writing Holmes tales that feel like they could be from the Canon. He captures the Watson style and tells good stories without gimmicks: no ghosts or famous historic figures need apply. His stories are mostly out of print, but this volume brings together 12 tales, with 10 never before published in book form. Holmes makes good deductions and there's a nice variety of plots and story lengths. Although wordier than Conan Doyle's tales, Smith's Holmes stories feel authentic. ($13.95 SRP; Amazon US listing $11.41)
See also the current Year's Best Holmes fiction and the Best Holmes fiction from other years for more excellent choices.
---
The year's best DVDs, Blu-ray Discs, videos, movie-related and audio items released in 2014.  See also About the Choices. 
Prices as of November 2014; subject to change.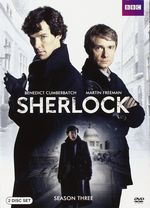 The BBC Sherlock Season One and Season Two brought a style and flair never before seen in Holmes on the screen. Season Three pushed the boundaries further, providing a visual and creative delight though with some sloppy plotting. That's a bit like Conan Doyle, who cared more about keeping a reader's interest than in getting the details right. Fast-paced and full of surprises, Sherlock practically demands that you watch each episode several times. Cumberbatch and Freeman deliver fine performances with exceptional chemistry. The two discs feature all three original uncut UK BBC episodes, which are each about 4 minutes longer than the versions shown by PBS, optional subtitles, and 45 minutes of extras (not shown on PBS) that are very good indeed. ($29.98 SRP; Amazon US listing $22.99 DVD, Blu-ray $30.19)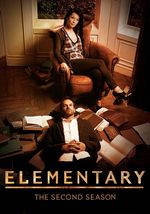 The first season of Elementary brought a more human Sherlock to the screen, and this well-written crime drama continued with a very strong second season. Episode 1 takes place in London and introduces the recurring characters of Inspector Lestrade and Sherlock's brother Mycroft. A few plots tie directly to the Canon, including one that is a clever and excellent update of "The Cardboard Box." The final eight episodes are especially enjoyable. Even if you saw this on TV, you won't regret taking a second look. The 6-DVD set has optional subtitles and an hour of extras, plus audio commentary by Lucy Liu on an episode she directed. ($64.99 SRP; Amazon US listing $29.99 DVD)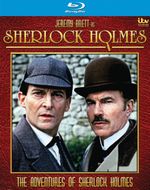 Fans of Sherlock should be sure to watch some of the Jeremy Brett TV series. These excellent adaptations, especially the early episodes, come directly from the original Holmes stories and Sidney Paget illustrations. The first 20+ episodes are outstanding, and even though Brett's failing health affected the later ones, those are still watchable. Start with The Adventures and then view The Return. The Blu-ray releases are new and opinions vary as to how much better they are than the prior DVDs. Part of that is personal preference, as the Blu-ray can show details and defects not intended by designers filming on 16mm for a small screen. Current DVD owners on a budget may want to wait until the price drops to around $100 for the Complete Series on Blu-ray. New fans can start with The Adventures on either DVD or Blu-ray. ($59.98 SRP; Amazon US listing $30.63 DVD, Blu-ray $31.49)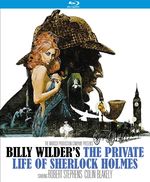 Part homage and part satire, this 1970 movie by Billy Wilder offered a more sophisticated view of Holmes. Mark Gatiss (BBC Sherlock) praised it as "a template of sorts for Stephen Moffat and me as we made our adaptation." The final release cut an hour from the film, and parts of those cuts are available as extras on disc. It's definitely worth watching despite the cuts, but the Blu-ray is not much better than the DVD, so this MGM Triple Play is a better value. Wilder wrote or directed more than 20 movie classics: for a sample of his range and how great he could be, see Double Indemnity, Some Like it Hot, or my favorite Stalag 17. ($29.95 SRP; Amazon US listing $18.49 Blu-ray)
Other Options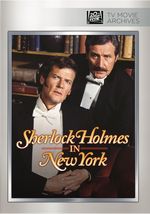 For completists only, listed here because it had been difficult to find. This 1976 made-for-TV movie includes an interesting cast, but the plot is weak and there is nothing special about the movie. I was underwhelmed when I saw this on TV, and have not bothered to get it so cannot comment on video quality or extras. While a burn-to-order product should work on many players, a DVD-R is never as good as a standard pressed DVD. Get my choices above or something from ANY of my other Holmes DVD / Blu-ray recommendations before buying this. ($19.98 SRP; Amazon US listing $14.99 DVD)
See also the current Year's Best Holmes DVDs & movies and the Best Holmes movies from other years for more excellent choices.
---
The year's best books about Holmes or Conan Doyle published in 2014.  Listed in order by author, see also About the Choices and E-books. 
Prices as of November 2014; subject to change.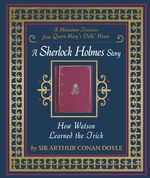 Conan Doyle wrote a Sherlock Holmes parody in 1922 as a special gift for Queen Mary's Dolls' House. His miniature handwritten manuscript, sized for dolls, still resides at Windsor Castle. This tiny reproduction closely matches the original but is not a photographic facsimile. It comes in a clever presentation case that can be displayed on your bookshelf. See my full review of "How Watson Learned the Trick" for more details and photos. You can read the parody online, and the appeal here is more about the item than the ultra-short story, but this tiny book and case would make for a charming and unique Sherlockian gift. ($19.99 SRP; Amazon US listing $13.27)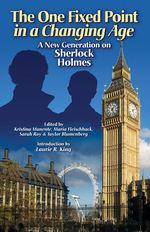 The BBC's Sherlock spawned a vast new generation of Sherlock Holmes fans. Unlike prior Holmes revivals, these fans can use the Internet to share their enthusiasms and passions. This book provides 25 examples of some of their better work. Most of the essays involve the BBC Sherlock, though Elementary, the Robert Downey movies, and Canonical analysis all make appearances. Six of the papers are especially informative and insightful. While the others are generally good, a few are already dated by developments in later seasons of Sherlock and Elementary. ($24.95 SRP; not on Amazon; see Wessex Press)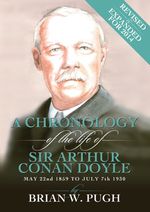 When you need to fact-check something about Conan Doyle, Pugh's Chronology is the place to start. It provides a master index to hundreds of books, articles and select primary sources about Sir Arthur. This third edition adds more than 400 additional newspaper articles, expanding the book's main entries by 20 pages. These are valuable contemporary reports; my only quibble is these new citations have dates but lack title and page number references, so you need access to electronically searchable archives to locate the full article. Online stores like Amazon carry all three editions, so be sure to get this 2014 edition with the teal-blue stripe on the cover, as linked here. ($24.95 SRP; Amazon US listing $22.04)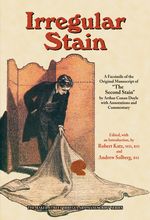 All Sherlockians would love to own an original Sherlock Holmes manuscript, and now for the first time they can get a color reproduction of one. The BSI previously published grayscale facsimiles in a smaller format, but produced the manuscript of "The Adventure of the Second Stain" in a larger size and in color. This volume also features photos of the only known galley proofs for a Holmes story and a color reproduction of Sidney Paget's original frontispiece drawing for the tale. It includes an annotated typescript for the story, the history of the manuscript, and seven essays about the tale. ($39.95 SRP; not on Amazon; see BSJ website)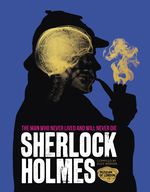 While there is no printed catalog for the excellent Museum of London exhibition, its companion book offers the next best thing to being there. This richly illustrated volume includes more than 200 high-quality photographs, drawings, paintings, and artifacts. Many are in color, and the book is a visual delight. The six essays explore themes from the exhibition, and will appeal more to dedicated Sherlockians than to casual readers. The first is dense and rather academic, though thankfully jargon-free. Four of the others are more accessible but still scholarly. Overall I enjoyed the essays, and all Holmes enthusiasts will appreciate the beautiful illustrations in this large hardcover. ($39.95 SRP; Amazon US listing $25.13)
Update 5/10/15: After the exhibition closed, a printed catalogue was also published.
See also the current Year's Best Books About Holmes & Doyle and the Best Books About Holmes & Doyle from other years for more fine choices.
---
This site first published its "Best of Year" reviews and recommendations in 2009. See the current Year's Best Sherlock Holmes books and movies and the Other Years' Best Sherlock Holmes books and DVDs. People just getting started with Holmes should see the best choices for new Sherlockians.
This page's 2014 list was first posted on November 1, 2014. One item was added on November 7, and I added information about "The Three Monarchs" by Anthony Horowitz on November 21. I updated my review of Moriarty when it was published on December 9, 2014. A printed catalogue was published after the Museum of London Exhibition closed in April 2015, and I noted this next to the review of the exhibition companion book.
---
A Kindle version of most of these books is available, but I don't list the e-book or its price unless it's hard to find on Amazon. Typically the Kindle Edition will be listed in the Formats box to the right of a book's cover photo.
When a book is available in both print and e-text, I review the print edition.
Return to Holmes Fiction or to Books About Holmes & Doyle.
---
My choices are based on 30+ years of reading and collecting Sherlockiana. I'm a member of the Baker Street Irregulars, have written numerous Sherlockian articles, and have spoken about Conan Doyle rarities for conferences at Harvard and the University of Minnesota.
I limited the number of items in order to make this list easier and faster for people to use. Items released near the end of 2014 may not be on this list, so be sure to check my 2015 recommendations as well. And see these details on my selection process and criteria.
In most cases I've given both the U.S. suggested retail price (SRP) and the price at Amazon as of November 2014; those prices are of course subject to change.
---
The 10 Best Gifts for New Sherlock Holmes Fans
The Current Year's Best Sherlock Holmes books and DVDs / Blu-ray
Best Sherlock Holmes books and DVDs / Blu-ray from prior years
The 10 Best Basil Rathbone Sherlock Holmes Movies and DVDs
The Best Sherlock Holmes Stories
The Top 10 Quotes from the Sherlock Holmes stories
Other Top 10 Lists for Sherlock Holmes and Conan Doyle
---