The Best of Sherlock Holmes
How Watson Learned the Trick:
A Conan Doyle Manuscript & Reproduction
By Randall Stock, October 14, 2014
Sir Arthur Conan Doyle wrote a Sherlock Holmes parody in 1922 as a special gift for Queen Mary. His handwritten manuscript of "How Watson Learned the Trick" still resides at Windsor Castle, and a charming reproduction of this miniature manuscript is now available.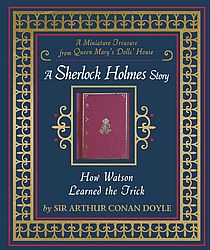 Topics
Original Manuscript or Fair Copy?
Princess Marie Louise (1872-1956), the granddaughter of Queen Victoria, proposed the creation of an elaborate dolls' house for her cousin Queen Mary, consort to King George V. This would allow British craftsmen to showcase their skills in a gift that would appeal to the Queen, who enjoyed collecting miniature antiques. Queen Mary's Dolls' House, produced at one inch to the foot, is nearly five feet high and includes electricity, running hot water, and a library with more than 200 miniature books.
During its construction, Princess Marie wrote to Conan Doyle on 29 August 1922 and asked if he would contribute a handwritten story to the dolls' house library. She included a small blank book for him to use when writing the story.
While some authors copied out a passage from previously published material, Conan Doyle wrote a new 500-word Sherlock Holmes story entitled "How Watson Learned the Trick." He returned the completed book with an undated covering note that wryly described the ultra-short parody as an "unpublished novelette."
The Princess later requested permission to publish the parody along with other material from the miniature library in a full-size book commemorating the dolls' house. Because Conan Doyle was traveling in America, his private secretary, Major A. H. Wood, granted permission in a 28 May 1923 letter to the Princess. The story first appeared in The Book of the Queen's Dolls' House Library (1924).
For more about Queen Mary's Dolls' House:
Viewing Queen Mary's Dolls' House at Windsor Castle
Online Exhibit from Queen Mary's Dolls' House at Windsor Castle
The Library in Queen Mary's Dolls' House (Flash required)
---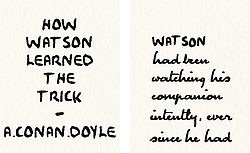 Conan Doyle wrote "How Watson Learned the Trick" on the rectos only of 33 sheets from a miniature blank book sent to him by Princess Marie Louise. That blank book probably included many more sheets, which were later removed during binding. The final bound volume contains three blank leaves at front and back, a title page, and 33 pages of text.
Sir Arthur used block letters for the title page (shown at left), but as seen on this image of the first page, he wrote the story narrative in his typical clear cursive handwriting.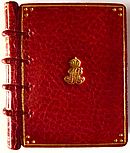 Sangorski & Sutcliffe, a famous London bookbinder, bound this manuscript in red morocco leather with gilt borders and embellishments on front and back. They embossed the front cover with the Queen's cipher and crown. The spine is divided into five gilt-bordered panels, with the story title in the second panel from the top as "HOW WATSON | LEARNED | THE TRICK" and the author's name in the panel below it as "CONAN | DOYLE."
To provide room for the authors' handwritten stories, books in library are somewhat larger than general scale of one inch to the foot. However, they remain very small indeed, and this book is only 1.5 inches high, 1.25 inches wide, and 0.5 inches thick.
This volume also carries a small bookplate with "MR" (for Queen Mary) and a design by E.H. Shepard, the illustrator of Winnie the Pooh.
For larger versions and additional photos of the original book and pages, see this Royal Collection Trust catalog entry for "How Watson Learned the Trick."
Photo of binding from Royal Collection Trust / © Her Majesty Queen Elizabeth II 2014. Photos of manuscript reproduction pages are Font © 2014 Walker Books Ltd.
---
The volume at Windsor Castle unquestionably contains Conan Doyle's handwritten manuscript for his story "How Watson Learned the Trick." However, it may not be his original manuscript for this parody.
The story is quite short at only 500 words, and Conan Doyle did indeed have a remarkable ability to write his Holmes stories with very few changes or corrections. However, it would be difficult to compose a story while writing in very small letters on sheets that only held 10 to 15 words. It seems more likely that Conan Doyle drafted this story on full-size paper, and then copied out his final text onto the miniature blank pages.
He had a precedent for such copying. Two versions exist of the first manuscript page for his Holmes story The Sign of Four. The original first page for that story became separated from the rest of the manuscript at some point, and Conan Doyle wrote out a second copy in order to make a complete manuscript. The University of California at San Diego now holds the original first page, and a private collector has the remainder that includes the later version of the first page.
If Conan Doyle did originally draft "How Watson Learned the Trick" on regular paper, the version in the dolls' house would be considered a "fair copy." However, there are no reports of a full-size version and thus it remains open for debate whether or not the miniature version is his original autograph manuscript.
---
The miniature book at Windsor Castle is an important historic artifact, and any handling risks damaging it. Opening the book wide enough to photograph all the pages could strain the binding. Instead, in consultation with the Royal Collection, Walker Books scanned only enough pages to allow it to capture the letters needed to create a custom font based on Conan Doyle's handwriting.
The result is a close approximation of the actual handwritten manuscript, but not a photographic facsimile. It is a bit sharper and clearer than the manuscript, and quite recognizable as Conan Doyle's handwriting style.

Differences between the handwriting in the manuscript and the reproduction are typically minor. However, there are a few places where Conan Doyle used a variation that was not replicated. The example shown here is especially noticeable, where the author used a sort of Greek "E" in the original and the reproduction uses a lowercase "e" instead. Such differences are not important to the average Sherlockian, but researchers do need to be aware of this limitation.
---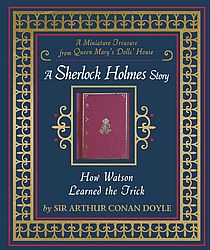 While the text of this parody has been published before, Walker Books has now produced a version that closely matches the original volume's size, appearance, and handwritten pages.
Because the book itself is so small, it's housed in a clever presentation box that itself looks like a book, complete with an attractive front "cover" and "spine." The box, which is 7 inches tall and 6 inches wide, has a front cover with a cut-out in the center that reveals the miniature book inside. Opening the box cover allows you to easily extract the miniature book for close viewing, and then replace it for protective storage that fits comfortably on a bookshelf.
The box also holds an informative and nicely-produced 24-page booklet. This booklet contains a short history of the creation of the Doll's House and the library, a brief biography of Conan Doyle, a backgrounder on Holmes and Watson, and a transcript of "How Watson Learned the Trick."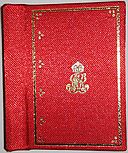 The miniature book itself is a close reproduction, but not a facsimile, of the original at Windsor Castle. It's bound in red cloth rather than red morocco leather, and the spine varies slightly from the original. Conan Doyle's handwriting is reproduced using a custom font from Walker Books that was based on a sample of his writing in the manuscript. While the "written" text looks remarkably similar to that in the manuscript, there are minor variations.
You can read the text of this parody for free online at Sherlockian.net, but the miniature printed volume has its own appeal. This tiny book, along with its attractive presentation box, would make for a charming and unique gift that any Sherlockian would surely appreciate.
Amazon UK book listing (£12.99 RRP)
Amazon US book listing ($11)
---
My thanks to Paul Black and Victoria Philpott from Walker Books for their assistance.
---
Related Pages
News Archive for Conan Doyle Manuscripts
Census of original Sherlock Holmes Manuscripts
Other Sherlockian rarities like Beeton's Christmas Annual 1887 and original Sidney Paget Drawings.
Lists of each year's best Sherlock Holmes books & DVDs, the most famous Sherlock Holmes quotes, and more Top 10 Lists.
Return to Manuscripts Home page and Introduction
---