The Best of Sherlock Holmes
"The Parish Magazine" Manuscript:
Toronto Library Adds to its Conan Doyle Collection
By Randall Stock, June 1, 2015
In March 2015, the Toronto Public Library added the original manuscript of "The Parish Magazine" to its holdings of Sir Arthur Conan Doyle material. One of Conan Doyle's last stories, it was published after his death.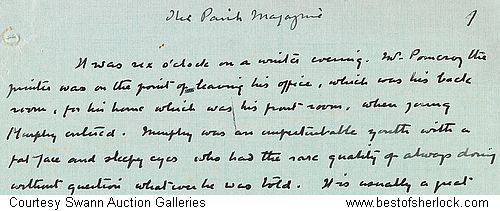 Autograph Manuscript Signed of "The Parish Magazine." Headed on first page as "The Parish Magazine."  Signed at end as "A Conan Doyle | Crowborough."  Not dated, but probably 1930.
Written in ink on the rectos only of eleven sheets of pale green paper measuring 10 x 8 inches, with some corrections and insertions by the author. Pages numbered in ink at upper center, with the last few pages unnumbered. Sheets contain a spindle hole at upper left as is common on many Conan Doyle manuscripts, and there are horizontal folds. Not bound. See below for a large photo of the manuscript of "The Parish Magazine."
Library Catalog Record: not in the Toronto catalog as of 5/31/15
---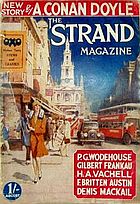 When Conan Doyle died on July 8, 1930, he'd written several stories that had yet to be published.  Among those was "The Parish Magazine," a humorous short story of about 3,000 words. The text was already at press when he died, and the tale appeared in the August 1930 Strand Magazine with two illustrations by S. Abbey. It was later included in A Century of Humour (1934), edited by P. G. Wodehouse.
Provenance:
Owned by the author's son Denis Conan Doyle (1909–1955), and sold after his death as lot 26 at Parke Bernet on November 22, 1955. Milton R. Slater (1918–2014), and sold after his death as lot 187 at Swann Galleries on March 19, 2015. Toronto Public Library, acquired from the Swann auction.
The Toronto purchase cost was shared between the Acquisition Fund of the Friends of the Collection, and the American Friends of the Toronto Public Library Foundation led by their chair Glen Miranker.
---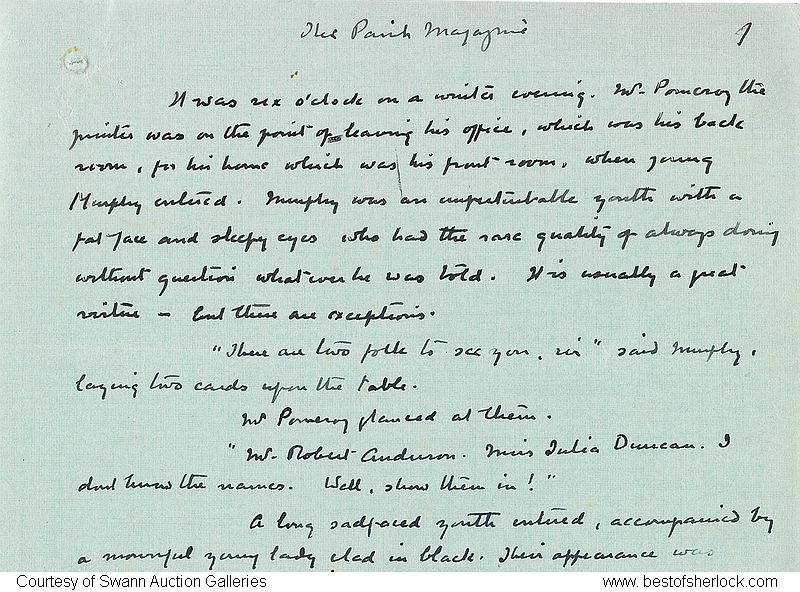 Top of first page of Conan Doyle manuscript for "The Parish Magazine"
See also the Swann photo of the last page of the manuscript in the Swann online catalogue.
---
The Arthur Conan Doyle Collection at the Toronto Public Library holds numerous Conan Doyle rarities. This includes a number of Conan Doyle manuscripts, many Conan Doyle letters and notebooks, first editions of his books, a Beeton's Christmas Annual 1887 with the first appearance of Sherlock Holmes, and much more.
For details and links to photos of their holdings, see my page on Toronto's rare Conan Doyle material. That page also has links to all of Toronto's online exhibits of Conan Doyle items.
---
Acknowledgements and Page History
Manuscript photo courtesy of Swann Auction Galleries
My thanks to Marco Tomaschett and Alexandra Nelson at Swann and to Cliff Goldfarb for assistance with my research.
The first version of this report appeared June 1, 2015.
---
Related Pages
Toronto's Arthur Conan Doyle Collection.
Checklist of non-Sherlockian Conan Doyle Manuscripts
News Archive for Conan Doyle Manuscripts
Other Conan Doyle rarities like Beeton's Christmas Annual 1887 and Sidney Paget drawings.
Lists of each year's best Sherlock Holmes books & DVDs, the most famous Sherlock Holmes quotes, and more Top 10 Lists.
Return to Manuscripts Home page and Introduction
---