The Best of Sherlock Holmes
The Arthur Conan Doyle Collection at the Toronto Public Library
By Randall Stock, June 1, 2015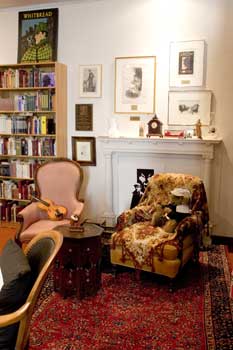 Toronto's Arthur Conan Doyle Collection has superb holdings of Conan Doyle material, including many rare items related to Sherlock Holmes.  Some highlights of the collection are noted below, with links to pages with photos and more details.
Manuscripts
Anna Conan Doyle, widow of Sir Arthur's son Adrian, donated a number of rare manuscripts to the library. Her first donation was the manuscript of "Angels of Darkness", a play related to the first Sherlock Holmes story.
The Toronto website has two photos of Angels of Darkness.
The Holmes story "The Mazarin Stone" first appeared as a play under a different title, and Toronto holds the manuscript of "The Crown Diamond" play.
Conan Doyle wrote about some of his real-life attempts at detection, as well as the public's reaction to the Holmes stories, in this manuscript for "Some Personalia About Sherlock Holmes."
Brigadier Gerard was another famous character created by Sir Arthur, and Toronto owns the last Gerard story written by Conan Doyle, "The Marriage of the Brigadier" manuscript.
In 2015, the library acquired one of Conan Doyle's final stories, the manuscript of "The Parish Magazine."
It also holds what is probably the first essay that he ever wrote for print, "An Essay on Intemperance."
Finally, Toronto has various notebooks and letters by Conan Doyle sold from the Conan Doyle Collection at Christie's in 2004.
---
The library has an extensive collection of Conan Doyle books and related published material. See some of the exhibits below for a better sense of their holdings, but two of the highlights include:
A copy of Beeton's Christmas Annual for 1887 with the first appearance of Sherlock Holmes, which is more fully described as copy R15 in my Beeton's Christmas Annual 1887 Checklist and Census.
Copy WMH22 of the first edition of "The Unique Hamlet", a rare Sherlock Holmes pastiche by Vincent Starrett.
---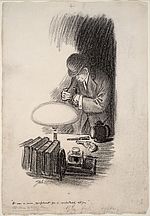 The Arthur Conan Doyle Collection contains a number of original Sherlockian drawings. One of these is a graphite sketch, shown here, by Frederic Dorr Steele for the first American appearance of the Holmes story "The Bruce-Partington Plans." Steele is famous for his Holmes illustrations and cover drawings for Collier's Magazine.
Another is an original Sidney Paget drawing for "The Cardboard Box," a Sherlock Holmes story first published in 1893 in The Strand Magazine. Paget established the classic image of Holmes and was responsible for making the deerstalker cap an icon for the detective.
---
Online exhibits and photos at the Toronto website include:
Other useful links to Toronto resources
Toronto Public Library Home page
The Arthur Conan Doyle Collection main page
Friends of the Arthur Conan Doyle Collection
---
My thanks to Peggy Perdue at the Toronto Public Library and to Cliff Goldfarb for their assistance with my research.  Photos courtesy of the Toronto Public Library and Peggy Perdue.
Return to Manuscripts Home page and Introduction
---