The Best of Sherlock Holmes
The Manuscript of The Narrative of John Smith by Arthur Conan Doyle
By Randall Stock, June 8, 2011 (revised 3/15/12)
Conan Doyle reported that the manuscript of his first novel was lost in the mail, and the story was never published.  However, he appears to have re-written the story, and the British Library purchased that manuscript at the auction of the Conan Doyle archives in 2004.  The British Library published Conan Doyle's lost first novel in the fall of 2011, and there's more about the history of this manuscript.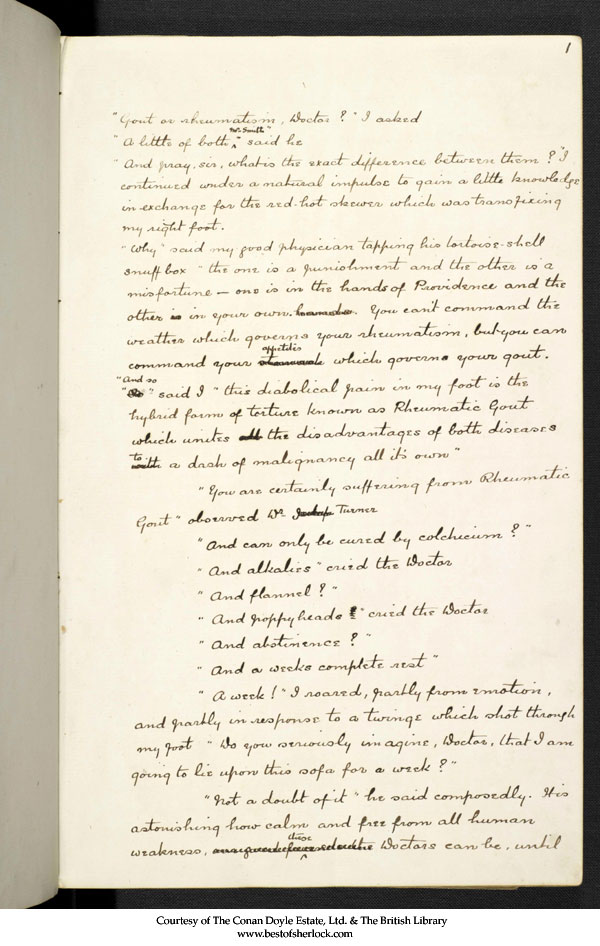 Manuscript Description
The surviving manuscript consists of 154 pages plus blanks in four hardcover notebooks bound in uniform black cloth.  It is written in ink on the rectos only of 8 1/4 x 11 3/4 inches paper.   Three pages of volume 1 were present but detached as of 2004.  Five pages have portions cut away, likely for cancelled passages.  The text is not finished, ending in the fourth notebook with only two pages present for Chapter Six.  Those final pages are in a different ink.  Although Conan Doyle numbered the 154 pages, the manuscript is not titled, signed, or dated. 
Conan Doyle made changes to almost every page in the first half of the first notebook.  These range from individual words to several lines, as well as to some pages with more than half the sheet cut away.   Very few revisions appear later in the first notebook and in the succeeding notebooks, with many pages having no changes at all.
Pictured above is the first page of the manuscript.  The book edition of The Narrative of John Smith includes a photo of page 2 from the manuscript.
---
Associated Materials
Related items include 4 pages of autograph notes and a paper fragment, embossed "Bush Villa | Southsea," with Conan Doyle's handwritten list of eight characters.  The manuscript and these associated items are held by the British Library.
Page 22 of the manuscript had 15 lines cut away.  That cut-away portion still exists, separate from the rest of the manuscript.  Christie's reported in 2004 that it was owned by a private American collector.
---
History of the Manuscript and Story
More details about Conan Doyle writing and rewriting this story are discussed with the history of the manuscript.
Related Pages
First Published Edition of The Narrative of John Smith
Arthur Conan Doyle: A Life in Letters
Sale of the Conan Doyle Archives at Christie's in 2004
Census of the Conan Doyle Archives / Collection
More about Conan Doyle Manuscripts
Other Sherlockian rarities: Beeton's Christmas Annual 1887 and Sidney Paget original drawings
Lists of each year's best Sherlock Holmes books & DVDs, the best Sherlock Holmes stories, and more Top 10 Lists.
Return to Manuscripts Home page and Introduction
---