The Best of Sherlock Holmes
The Hound of the Baskervilles Manuscript:
Goldberg Coins & Collectibles 2011 Sale Information
By Randall Stock, December 12, 2011
One of the few existing pages from the original autograph manuscript for The Hound of the Baskervilles went to auction on 3 December 2011.  Conan Doyle's classic tale of Gothic horror and suspense became one of the first bestselling novels of the 20th century.  This leaf from Sherlock Holmes's most famous case includes some special characteristics that make it particularly interesting.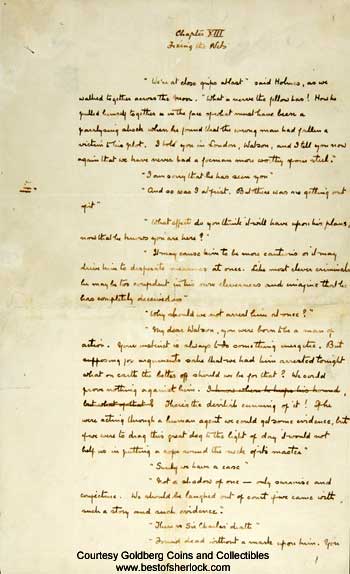 Hound of the Baskervilles Manuscript Leaf Description
Lot 183: Autograph Manuscript Leaf from the Hound of the Baskervilles
Conan Doyle wrote in ink on one side only for this manuscript leaf of 12 3/4 x 8 inches.  Unsigned, with no date or place of composition given on it, this leaf is consistent with the other recorded leaves for this tale and was written in the spring of 1901.  Entitled "Chapter XIII | Fixing the Nets," the leaf has been folded, with archival repairs to and tape removed from verso of folds, but is in fine condition otherwise.  In a custom case.
As noted in the census for The Hound of the Baskervilles manuscript, only 35 leaves from this story still exist and most of those are held by libraries and similar institutions.  In addition to this leaf, there are only two privately-held leaves that contain chapter headings (H7 and H27 on the census).
This leaf (H31 on the census) opens by mentioning Holmes's name in the first line of text.  Watson is named twice, once with the well-known phrase "My dear Watson."  Other references central to the story include the moor, the hound, and the death of Sir Charles Baskerville.   Conan Doyle strengthened his plotting for the story's climax by cancelling a line on this leaf involving the hound's hiding place.
These fine textual attributes, combined with being a most unusual chapter head (see bibliographical notes), make for an especially appealing manuscript leaf.  With a pre-sale estimate of $115,000 - $125,000  (plus buyer's premium), bidding did not reach the undisclosed reserve price and the leaf went unsold.
For a larger photo and other details, see below for a link to the online catalog entry.
---
Doyle originally planned for this text to be the opening of Chapter 13, but he changed that prior to first serial publication.  In The Strand Magazine, the text appears near the end of chapter 12, although the chapter head from this leaf is used for the heading to the Strand's Chapter 13.  This was carried through in the first UK book edition in 1902 published by George Newnes.  However, the McClure, Philips & Co. first US book edition, as well as later US reprints by various publishers, used the chapter break and text as indicated on this leaf.
---
Inspired by a west country legend conveyed to him by Bertram Fletcher Robinson, Conan Doyle wrote this tale in roughly three months from May to July 1901.  His handwritten manuscript was broken up as part of a publicity campaign for the American publication of the book in 1902.  Most of the manuscript is almost certainly lost, with only 35 leaves reported to still exist and the majority of those held by institutions.  
A member of the Baker Street Irregulars literary society owned this leaf in 1952 and displayed it at the 6 November 1952 meeting of The Five Orange Pips in New York.  Later owners included BSI members Lew David Feldman and Rollin Hadley.  Pepper & Stern advertised it in 1989 in their Rare Books Catalogue 25, and it was last reported as owned by David Karpeles as leaf H31 on the manuscript census.
---
Goldberg Coins & Collectibles provides an online catalog for this sale (66) with the leaf's description, full transcription, and a large photograph.
View Goldberg Lot 183 the Hound of the Baskervilles catalog entry.
For all lots in this auction, see their online general sale catalog.
The printed catalog for this sale is produced with glossy paper, and contains the same photograph of the leaf as shown online.  The photo is approximately 5 x 3 inches.
Goldberg printed catalogs typically cost $15 US domestic / $40 International delivery. 
Order by calling 800-978-2646 or 1.310.551.2646.  This catalog is for Sale # 66, December 2011: The Manuscripts, Space, Stamp & Collectibles Auction
---
Sale Information
This is their Manuscripts, Space, Stamp & Collectibles Auction (Sale 66).  It will be held at the Goldberg Coins & Collectibles offices in Los Angeles on Saturday 3 December 2011 and starts at 10:00 AM.
The buyer's premium is 20% of the hammer price.  Reserve prices are set at or below the low pre-sale estimate.
Ira & Larry Goldberg Coins & Collectibles
11400 W. Olympic Blvd. Suite 800
Los Angeles, CA 90064
Phone: 310. 551.2646
Toll-Free: 800.978.2646
Fax: 310.551.2626
Pre-sale Viewing
Call Beverly Hill at 800-978-2646 for an appointment
---
Unless noted, online reports were available free to the public when originally posted.  Some websites may remove online articles or charge for accessing older items.
Scuttlebutt from the Spermaceti Press, November 2011, p. 1. (75 words)
["A page from the manuscript of "The Hound...] by Peter E. Blau
http://redcircledc.org/index.php?id=39
---
My thanks to Beverly Hill at Goldberg Coins & Collectibles, and to Peter E. Blau for additional details on the manuscript's history.
Related Pages
News Archive for Conan Doyle Manuscripts
Manuscript of The Hound of the Baskervilles
Other Conan Doyle rarities like Beeton's Christmas Annual 1887 and Sidney Paget drawings.
Lists of each year's best Sherlock Holmes books & DVDs, the most famous Sherlock Holmes quotes, and more Top 10 Lists.
Return to Manuscripts Home page and Introduction
---