The Best of Sherlock Holmes
The Manuscript of Rodney Stone
By Randall Stock, April 11, 2016 (revised)
Conan Doyle's novel of prize-fighting during the Regency relied on his extensive boxing experience, and the manuscript includes an unpublished preface.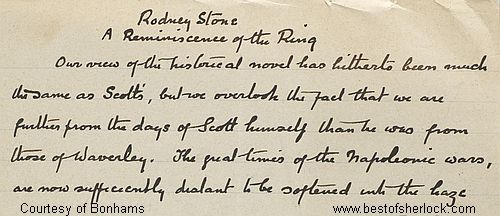 Headed on first page of an unpublished preface as "Rodney Stone | A Reminiscence of the Ring," and also in pencil on the first page of Chapter I.  Signed at end as "A. Conan Doyle | Reform Club | Pall Mall | London," not dated but 1895.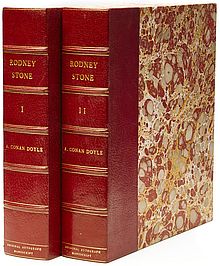 Conan Doyle's original autograph manuscript is written in ink on 531 pages using paper of various sizes, 12mo to 8vo.  Chapters 3 to 8 and 12 to 17 have publisher's page count numbers in blue crayon or pencil.
It is bound into two volumes of contemporary green-gray cloth with gilt-lettered spines.  The second volume begins with the opening of Chapter 10.  The bound volumes are housed in the slipcases shown here.
An unpublished two-page preface is laid into volume I.  The published version of the preface is much shorter.  See below for photos of the unpublished preface's first page, and of the tops of three chapter-head pages.
This is one of five Conan Doyle manuscripts in the Bonhams 2016 auction.
---
Conan Doyle was a fine athlete and an avid amateur boxer. He started working on a play involving boxing in 1894, but set it aside and began writing Rodney Stone in the summer of 1895. Informing his mother in a 7 September 1895 letter that he had finished the book, he said he was thinking of entitling it as "Rodney Stone: A Reminiscence of the Ring."
He was pleased with the book, telling his mother "it contains some scenes which are as good as I have ever done," and declaring in his autobiography that "no one but a fighting man would ever…quite understand or appreciate some of the detail."
It first appeared, in serialized form, in the Strand Magazine from January to December 1896. The Strand opened the story with a facsimile of the first six lines of the manuscript for Chapter I. In America, S. S. McClure syndicated the story in 17 parts to various American newspapers. Smith, Elder & Co. published the first English edition of Rodney Stone in 1896, and D. Appleton & Co. produced the first American edition.
---
As reported by Bonhams 2016:
Marjorie Wiggin Prescott (1895-1980) (her sale, Christie's New York, February 6, 1981, Lot 98).
Two-page preface: Marcus collection (Christie's New York, November 22, 1985, Lot 40).
---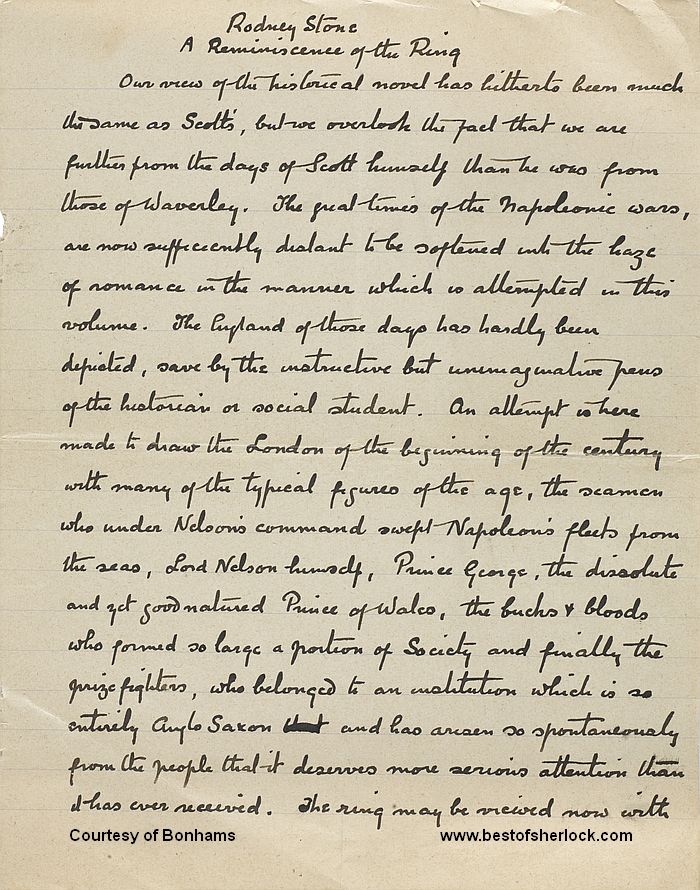 First page of Conan Doyle manuscript for unpublished preface to Rodney Stone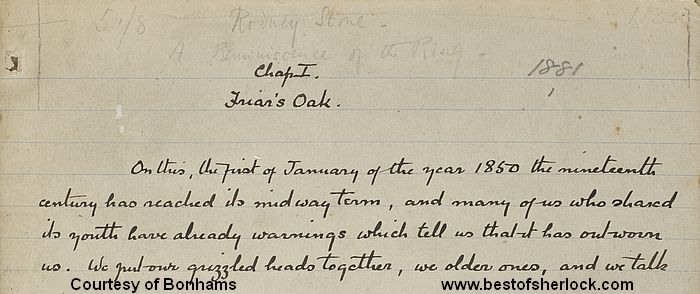 Top of Chapter 1 of Conan Doyle manuscript for Rodney Stone

Top of Chapter 10 of Conan Doyle manuscript for Rodney Stone

Top of Chapter 18 of Conan Doyle manuscript for Rodney Stone
The manuscript description (above) has more information and another photo.
See the Bonhams catalogue for other photos of the manuscript.
---
Photos courtesy of Bonhams
My thanks to Tom Lamb and Katie Segreto at Bonhams for photos and additional details about the manuscript. Special thanks to David Karpeles for allowing me to examine the manuscript in 2012.
Details from Bonhams 2016 catalogue and other sources. The first version of this report appeared March 19, 2016.
---
Bonhams April 2016 manuscript auction
Checklist of non-Sherlockian Conan Doyle Manuscripts
Census of Sherlock Holmes Manuscripts
Lists of each year's best Sherlock Holmes books & DVDs, the most famous Sherlock Holmes quotes, and more Top 10 Lists.
Return to Manuscripts Home page and Introduction
---