The Best of Sherlock Holmes
"The Prisoner's Defence" Manuscript
By Randall Stock, March 19, 2016
Set during World War I, this was the first Conan Doyle short story published during that war.

Headed on first page as "The Prisoner's Defence."  Signed at end at lower left as "Arthur Conan Doyle | Crowborough.", not dated but c.1915.

Conan Doyle's original autograph manuscript is written in ink on the rectos only of 13 pages of yellow ruled paper, and is secured at top left by a metal clasp.  It measures 318 x 200 mm, and includes a number of revisions.  It is housed in a red morocco-backed slipcase.  See below for a photo of the manuscript's first page.
This is one of five Conan Doyle manuscripts in the Bonhams 2016 auction.
---
With the start of World War I, Conan Doyle turned from writing fiction to chronicling the history of the war. He had only two short stories published during the Great War from 1914 through 1917, and "The Prisoner's Defence" was the first of these.
It appeared with the title "The Prisoner's Defense" in the 8 January 1916 issue of Collier's Weekly Magazine, and then in the February 1916 Strand Magazine using the British spelling of the title. John Murray published the first English book collection with the story in 1918 in Danger! and other stories, and George H. Doran produced the American first edition in 1919.
---
None reported by Bonhams 2016
---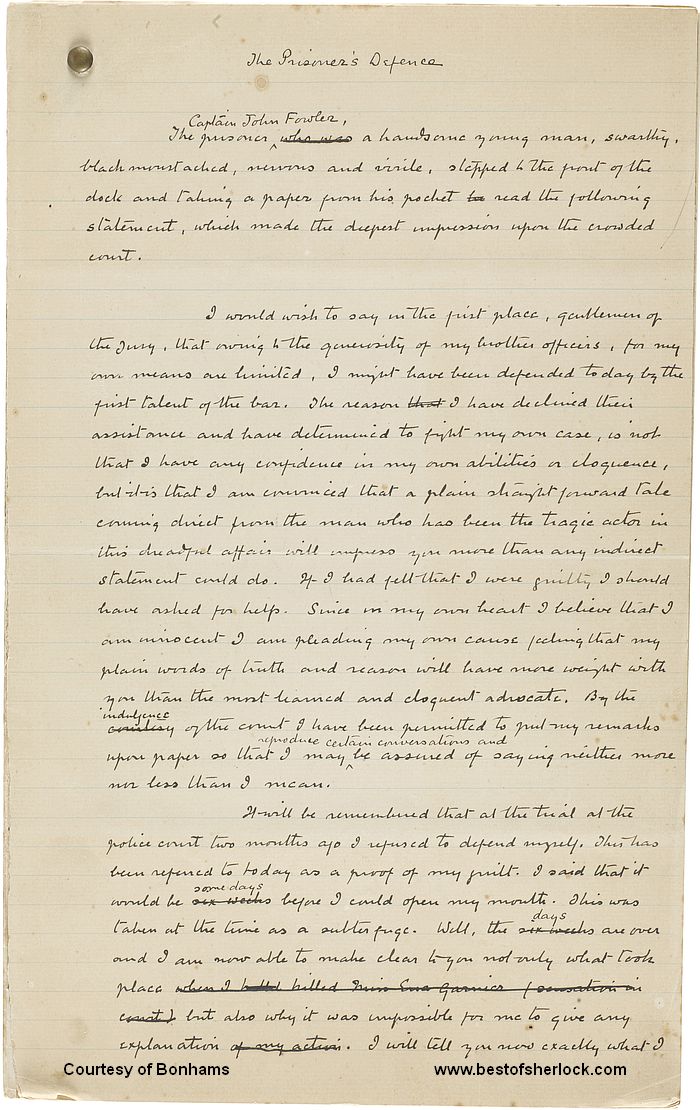 First page of Conan Doyle manuscript for "The Prisoner's Defence"
The manuscript description (above) has more information and another photo.
See the Bonhams catalogue for other photos of the manuscript.
---
Photos courtesy of Bonhams
My thanks to Tom Lamb and Katie Segreto at Bonhams for photos and additional details about the manuscript. Special thanks to David Karpeles for allowing me to examine the manuscript in 2012.
Details from Bonhams 2016 catalogue and other sources. The first version of this report appeared March 19, 2016.
---
Bonhams April 2016 manuscript auction
Checklist of non-Sherlockian Conan Doyle Manuscripts
Census of Sherlock Holmes Manuscripts
Lists of each year's best Sherlock Holmes books & DVDs, the most famous Sherlock Holmes quotes, and more Top 10 Lists.
Return to Manuscripts Home page and Introduction
---