The Best of Sherlock Holmes
The Hound of the Baskervilles Manuscript:
Christie's New York 2016 Sale Information
By Randall Stock, June 22, 2016 (revised)
One of the two recorded manuscript pages from The Hound of the Baskervilles that uses Sherlock Holmes's full name went to auction at Christie's on June 16, 2016.

Lot 91: Autograph Manuscript Leaf from the Hound of the Baskervilles
Conan Doyle wrote in dark brown ink on the front (recto) of this 12 1/4 x 8 inch (310 x 198 mm) manuscript leaf. This page includes 33 lines of text with a number of insertions and cancellations that show the author refining his prose. Like the other Hound leaves, it's not signed or dated, but was written in mid-1901. On laid paper with the watermark of "Waverly / J.S. & Co.," it appears to be in excellent condition. See below for a larger photo of this manuscript leaf.
Unlike his later manuscripts, Conan Doyle did not have a typist make copies of The Hound. A compositor probably used this sheet when setting type for the Strand Magazine, thus accounting for the spindle hole in the top left corner and a very faint penciled "31" in the blank left margin. The scene from this leaf appeared in the October 1901 issue of the Strand.
As noted in the census for The Hound of the Baskervilles manuscript, only 36 leaves from this story still exist, and 24 of those are held by libraries and similar institutions. Many of the extant leaves do not explicitly identify Holmes or Watson. This leaf (H5) names them both, and is one of only two recorded leaves to use the full name "Sherlock Holmes."
In addition, it contains the names of other major characters including Baskerville, Barrymore, and Dr. Mortimer. It also mentions the iconic lodgings on Baker Street, and includes dialogue between Holmes and Watson at 221B.
With a pre-sale estimate of $80,000 – $120,000 (plus buyer's premium), bidding did not reach the undisclosed reserve price and the leaf went unsold. A different leaf from The Hound (H36) sold at auction in 2012 for $158,500 (including the buyer's premium).
---
Inspired by a west country legend conveyed to him by Bertram Fletcher Robinson, Conan Doyle wrote this tale in roughly three months from May to July 1901.  His handwritten manuscript was broken up as part of a publicity campaign for the American publication of the book in 1902.  Estimated to comprise approximately 185 pages originally, most of the manuscript is almost certainly lost, with only 36 leaves reported to still exist, and the majority of those held by institutions.
Conan Doyle's classic tale of Gothic horror and suspense became one of the first bestselling novels of the 20th century. The Hound was serialized in both the London and New York editions of the Strand Magazine. The English version appeared from August 1901 through April 1902, while the American version went from September 1901 through May 1902. George Newnes published the English first edition of The Hound of the Baskervilles in 1902, and McClure, Phillips & Co. produced the American first edition.
---
Sold from the collection of Rollin Van Nostrand Hadley at Parke-Bernet in New York on March 22, 1966. Gordon G. Neitzke, probably from the 1966 auction. Last reported on the Hound of the Baskervilles manuscript census (leaf H5) as owned by a private collector in Wisconsin. Offered as the "property of a gentleman" at the Christie's auction for June 16, 2016.
---
Christie's provides both an online catalogue and a printed catalogue for this sale. Note that after a sale, Christie's might not provide online access to catalogue entries for unsold items.
View Christie's Lot 91 the Hound of the Baskervilles catalogue entry.
They also offer an online PDF version of the printed catalogue: Sale 12260 e-catalogue (9 MB PDF).
The printed catalogue is $40 or £25.  On page 67 it has the same description and full-leaf photo as shown at the link above for Lot 91.
You can purchase the printed catalogue from their website (sale 12260).  Or if ordering by phone, ask for Publication (Sale) Code CASSADY–12260, Fine Printed Books and Manuscripts Including Americana, for the 16 June 2016 Christie's New York sale.
---
This will be Christie's Fine Printed Books & Manuscripts Including Americana sale, in New York, on June 16, 2016 at 10:00 am.
The buyer's premium is 25% of the hammer price on the first $100,000 and 20% on the remainder up to $2 million.  Reserve prices are set at or below the low pre-sale estimate.
20 Rockefeller Plaza
New York, NY 10020
Tel: +1 212 636 2000
Fax: +1 212 636 2399
info@christies.com
Pre-sale Viewing at Rockefeller Center
Saturday June 11, 10am - 5pm
Sunday June 12, 10am - 5pm
Monday June 13, 10am - 5pm
Tuesday June 14, 9:30am - 4pm
Wednesday June 15, 9:30am - 4pm
---
The manuscript description (above) has more information.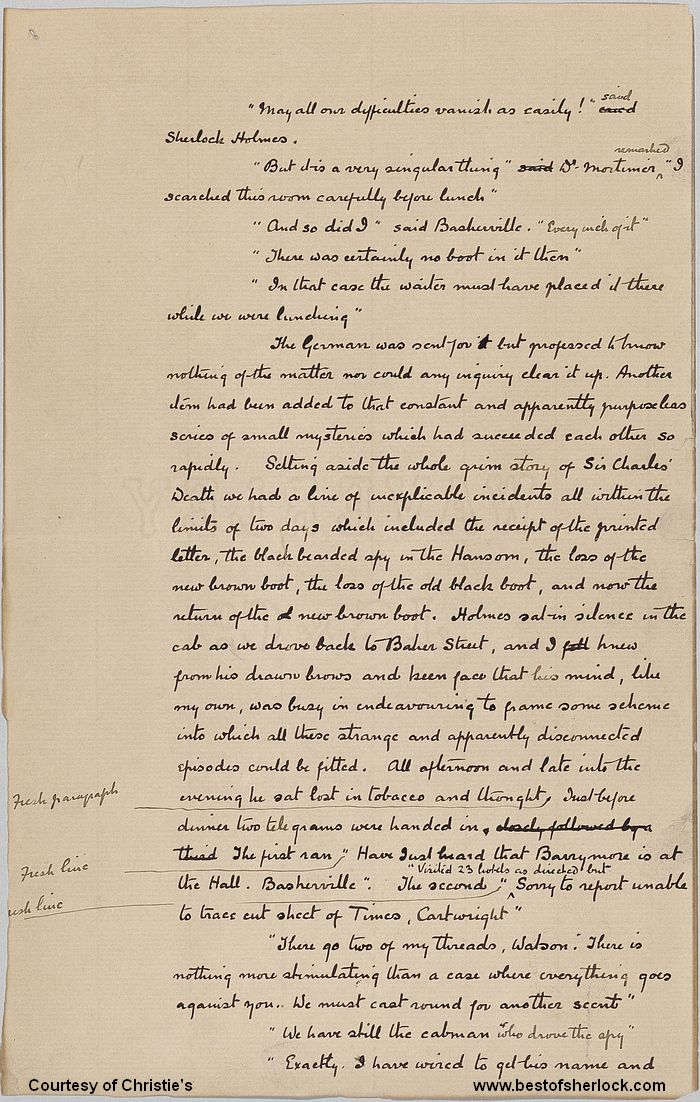 Leaf H5 of Conan Doyle manuscript for The Hound of the Baskervilles
(text in italics precedes and follows leaf H5)
"My missing boot!" he cried.
"May all our difficulties vanish as easily!" said Sherlock Holmes.
"But it is a very singular thing," Dr. Mortimer remarked. "I searched this room carefully before lunch."
"And so did I," said Baskerville. "Every inch of it."
"There was certainly no boot in it then."
"In that case the waiter must have placed it there while we were lunching."
The German was sent for, but professed to know nothing of the matter, nor could any inquiry clear it up. Another item had been added to that constant and apparently purposeless series of small mysteries which had succeeded each other so rapidly. Setting aside the whole grim story of Sir Charles's death, we had a line of inexplicable incidents all within the limits of two days, which included the receipt of the printed letter, the black-bearded spy in the hansom, the loss of the new brown boot, the loss of the old black boot, and now the return of the new brown boot. Holmes sat in silence in the cab as we drove back to Baker Street, and I knew from his drawn brows and keen face that his mind, like my own, was busy in endeavouring to frame some scheme into which all these strange and apparently disconnected episodes could be fitted. All afternoon and late into the evening he sat lost in tobacco and thought.
Just before dinner two telegrams were handed in. The first ran :—
"Have just heard that Barrymore is at the Hall.—Baskerville." The second:—
"Visited twenty-three hotels, as directed, but sorry to report unable to trace cut sheet of Times.—Cartwright."
"There go two of my threads, Watson.
There is nothing more stimulating than a case where everything goes against you. We must cast round for another scent."
"We have still the cabman who drove the spy."
"Exactly. I have wired to get his name and address from the Official Registry. I should not be surprised if this were an answer to my question."
---
Photos courtesy of Christie's.
My thanks to Tom Lecky, Chris Coover, and Helen Cousar at Christie's for photos and help with information about the manuscript. Thanks also to Peter E. Blau for his assistance.
Details from the Christie's 2016 catalogue and other sources. The first version of this report appeared May 28, 2016. A 6/8/16 update added new provenance details, and a 6/22/16 revision added the auction results.
---
Census of the Manuscript of The Hound of the Baskervilles
Census of Sherlock Holmes Manuscripts
News Archive for Conan Doyle Manuscripts
Other Sherlockian rarities like Beeton's Christmas Annual 1887 and Sidney Paget drawings.
Lists of each year's best Sherlock Holmes books & DVDs, the most famous Sherlock Holmes quotes, and more Top 10 Lists.
Return to Manuscripts Home page and Introduction
---